December 21, 2022
It has become an annual tradition to present my Celtic Christmas program on New Year's Day. This is, after all, the midpoint of the Twelve Days of Christmas! The Zoom format has allowed me to collaborate with multiple musicians living in disparate locations to create new material which would not be possible in a stage performance. Please join me on Sunday, January 1, 2022 for this very special concert with guest performers Ivana Carlson (violin), Megan McConnell (soparano), Amber Rose (soprano), Franklin Keel (cello), and Claire Shirey (Irish step dance).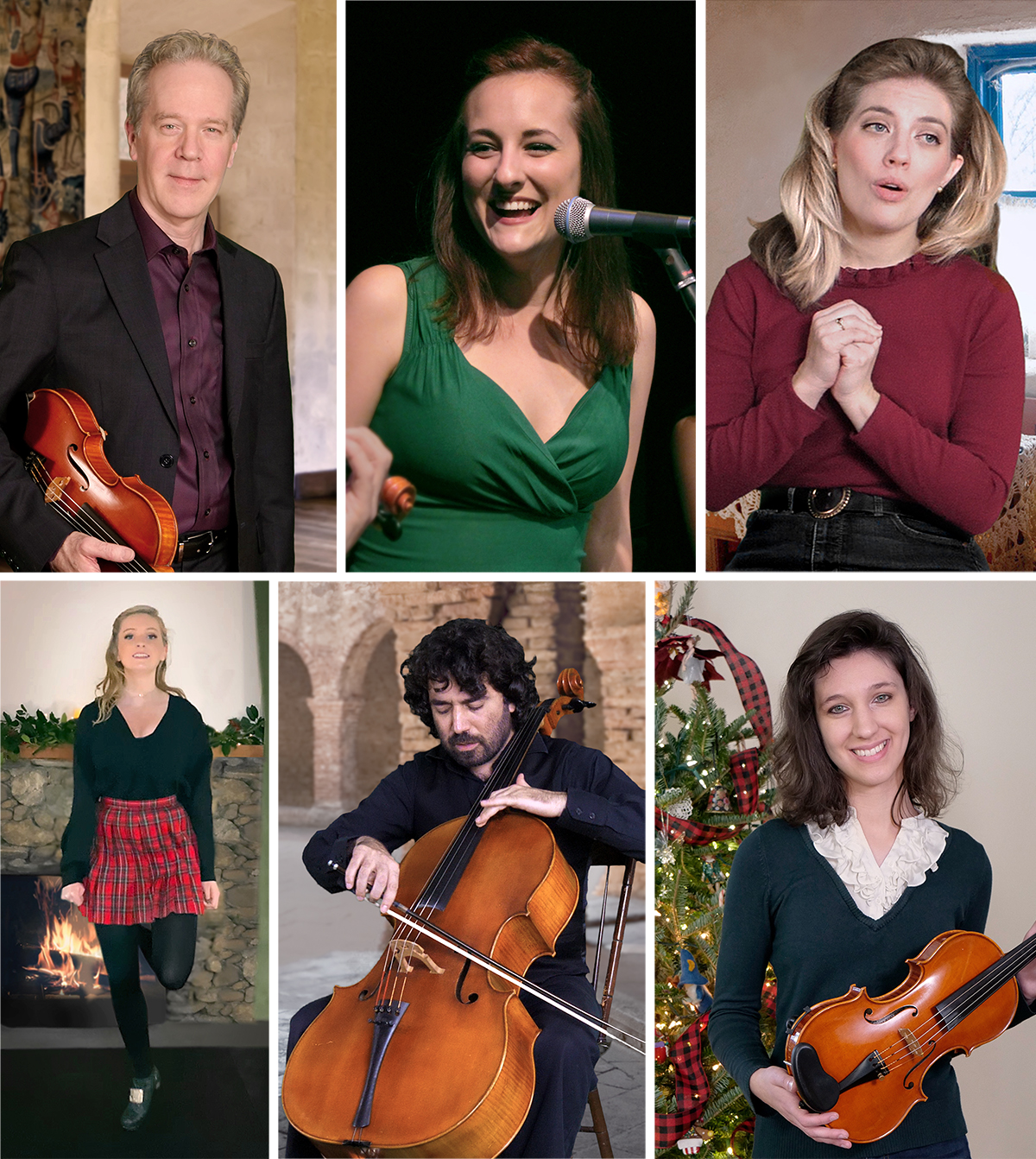 June 10, 2022
I am very excited to perform with Celtic harpist Abbie Palmer next week during my Zoom concert on June 18. Abbie will be making the trip from her home in Washington DC to rehearse, record, and perform in my home studio in Tryon. This will be our first live collaboration, following several weeks of working together online. The event feels auspicious.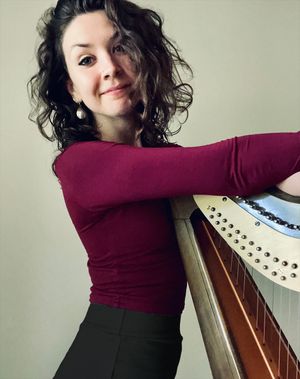 June 3, 2022
One of my recent collaborations has been with superb violist Mark Neumann. Mark is currently the viola prof at University of Oklahoma and has been a member of several renown orchestras including the Montreal Symphony and the Calgary Philharmonic. This past year I composed several new concert pieces for viola and violin duet, which Mark and I recorded and performed at the International Viola Congress in Columbus, GA. Mark performed the pieces with dashing technical prowess and subtle musical nuance. I will be featuring one of these selections in my upcoming Zoom concert.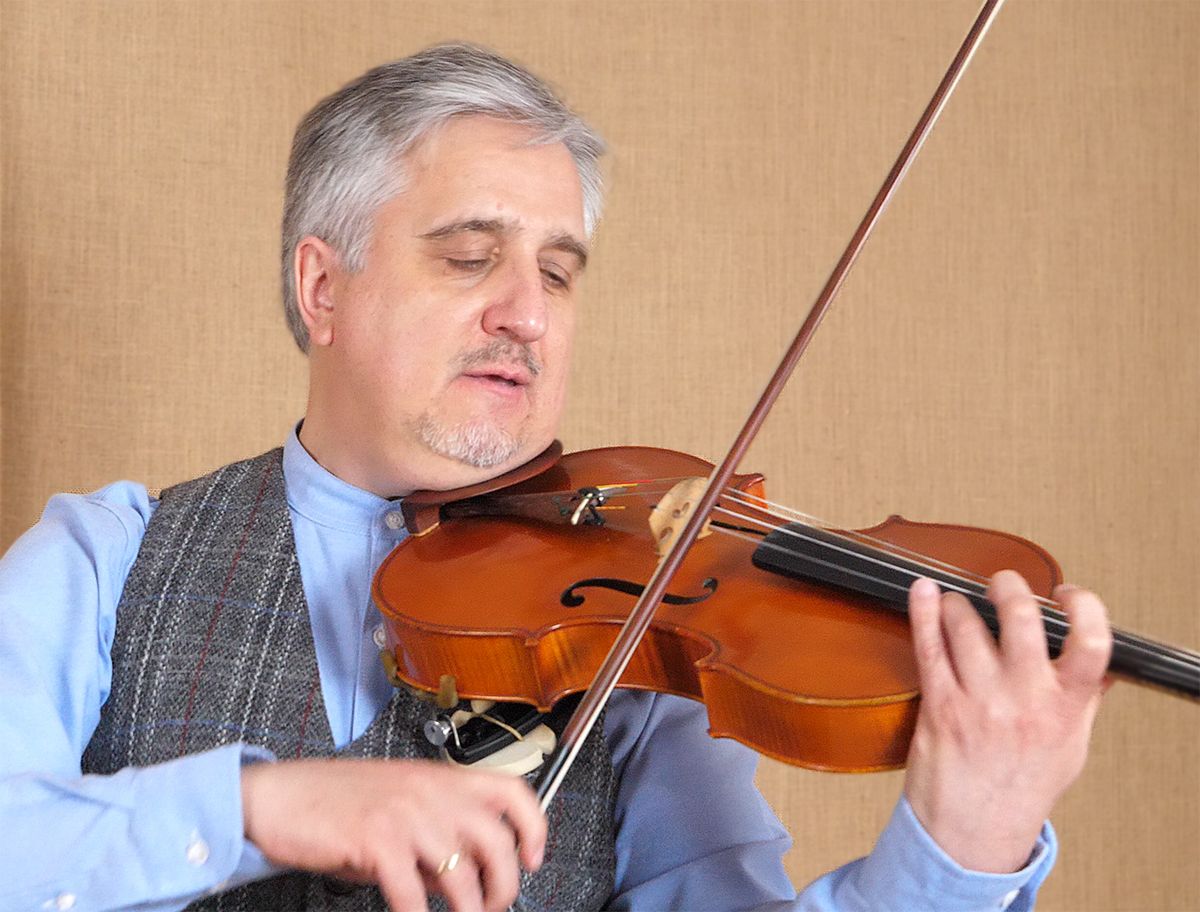 Nov 7, 2021
Amber Rose and I performed our second-ever Live concert in Charlotte, North Carolina, USA. The magic of the evening suggested that this was the auspicious beginning of great things to come.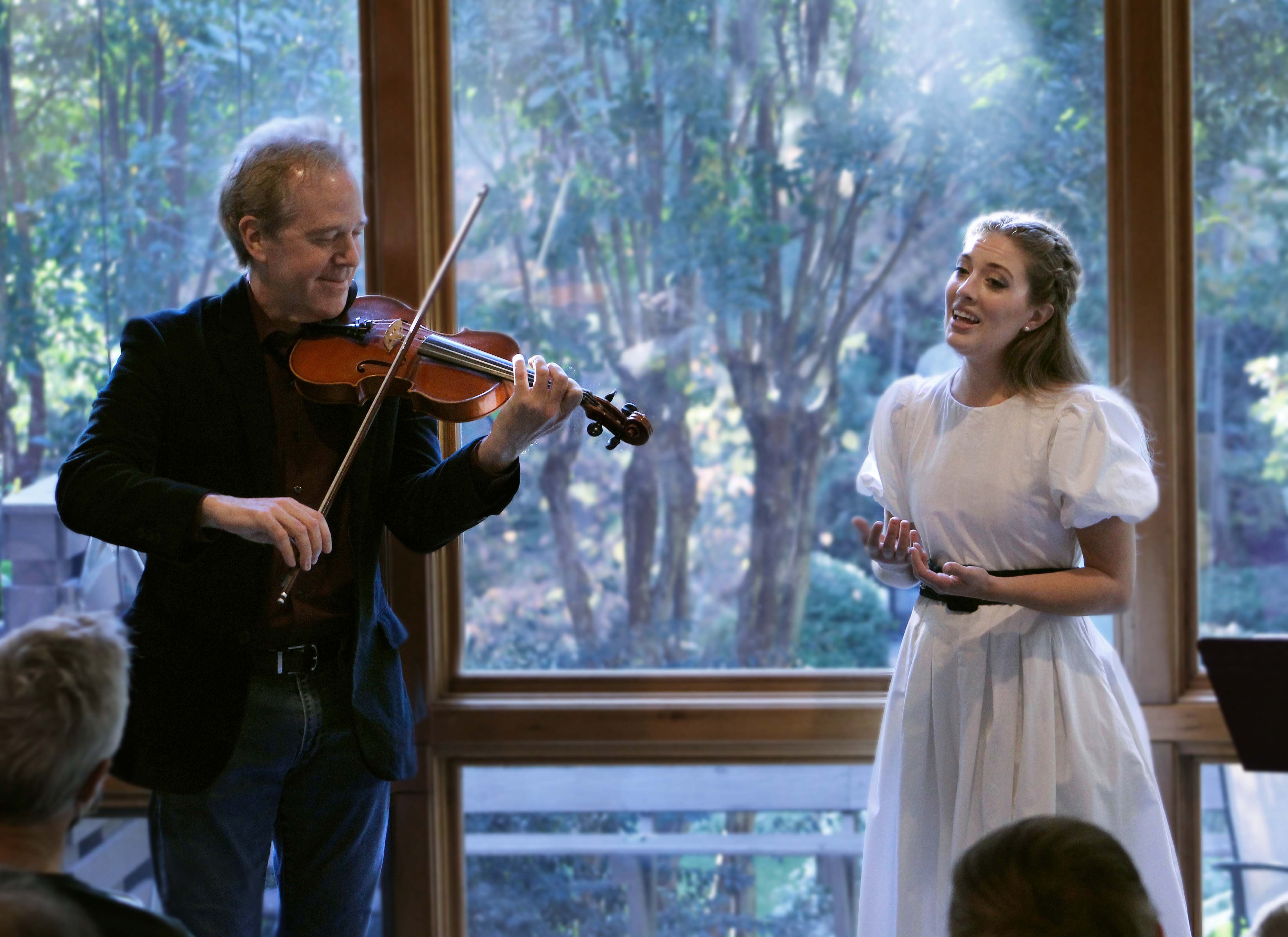 photo credit: Daniel Coston
Oct 31, 2021
The popularity of my Zoom concerts continues to surprise me, and I was delighted with how well the Halloween Zoom concert went. During the first installment we had a few technical hiccups, but these were addressed promptly and the ensuing two shows went completely smoothly. I have really enjoyed the afterglow following these Zoom gatherings. A large number of listeners hang around in the chat room and listen in on the discussion period that follows the music. This photo was sent to me by a family of friends/fans in California. Onscreen I am playing an Appalachian selection, which inspired the little girl to take up the washboard! (photo taken by the mother and used with permission)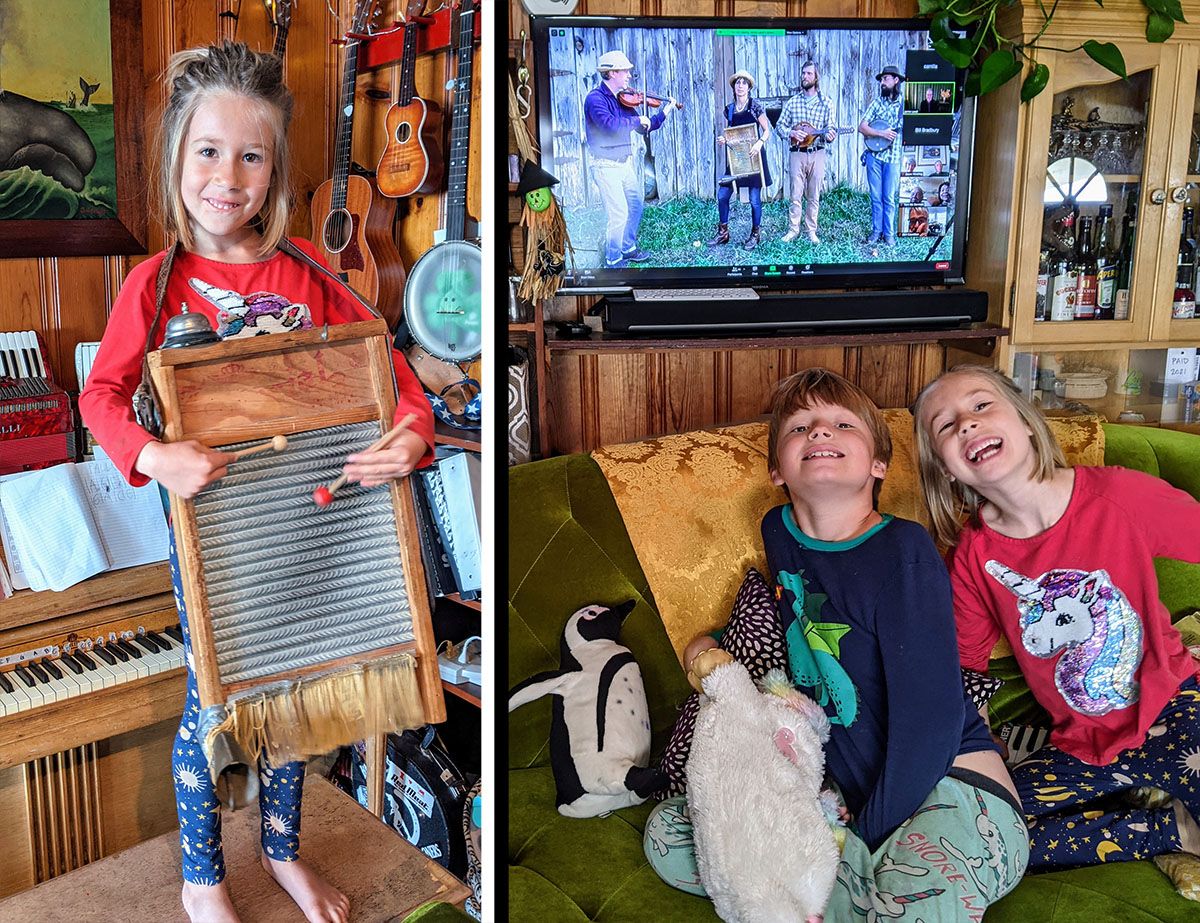 Oct 12, 2021
As online concerts via Zoom continue to work well, plans for a few live performances are beginning to take shape. Amber Rose and I did a small, but lovely concert in Asheville, NC last month and will be doing a living room concert in a private home on Charlotte, NC coming up on Nov 7. We're looking forward to gradually adding engagements throughout 2022.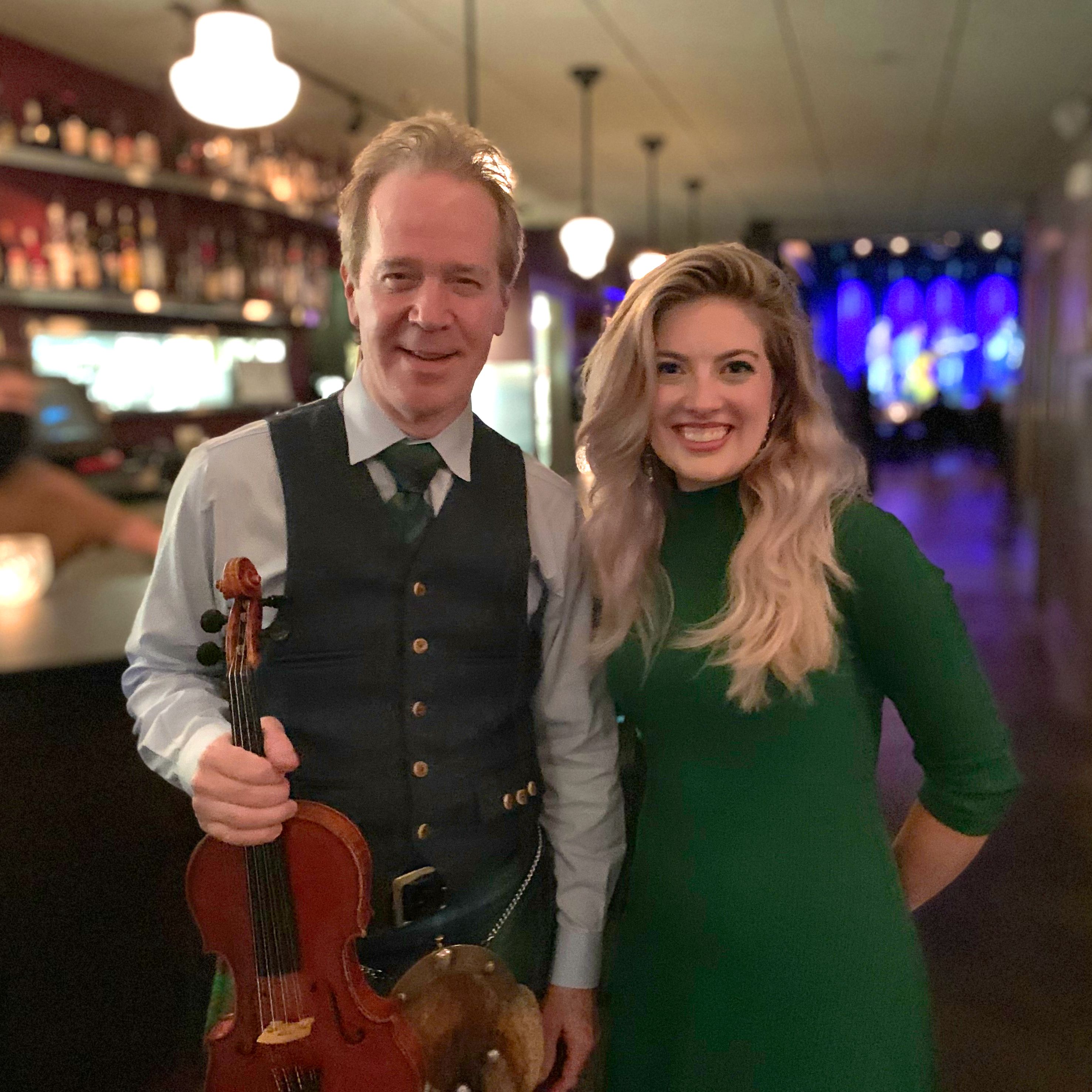 April 17, 2021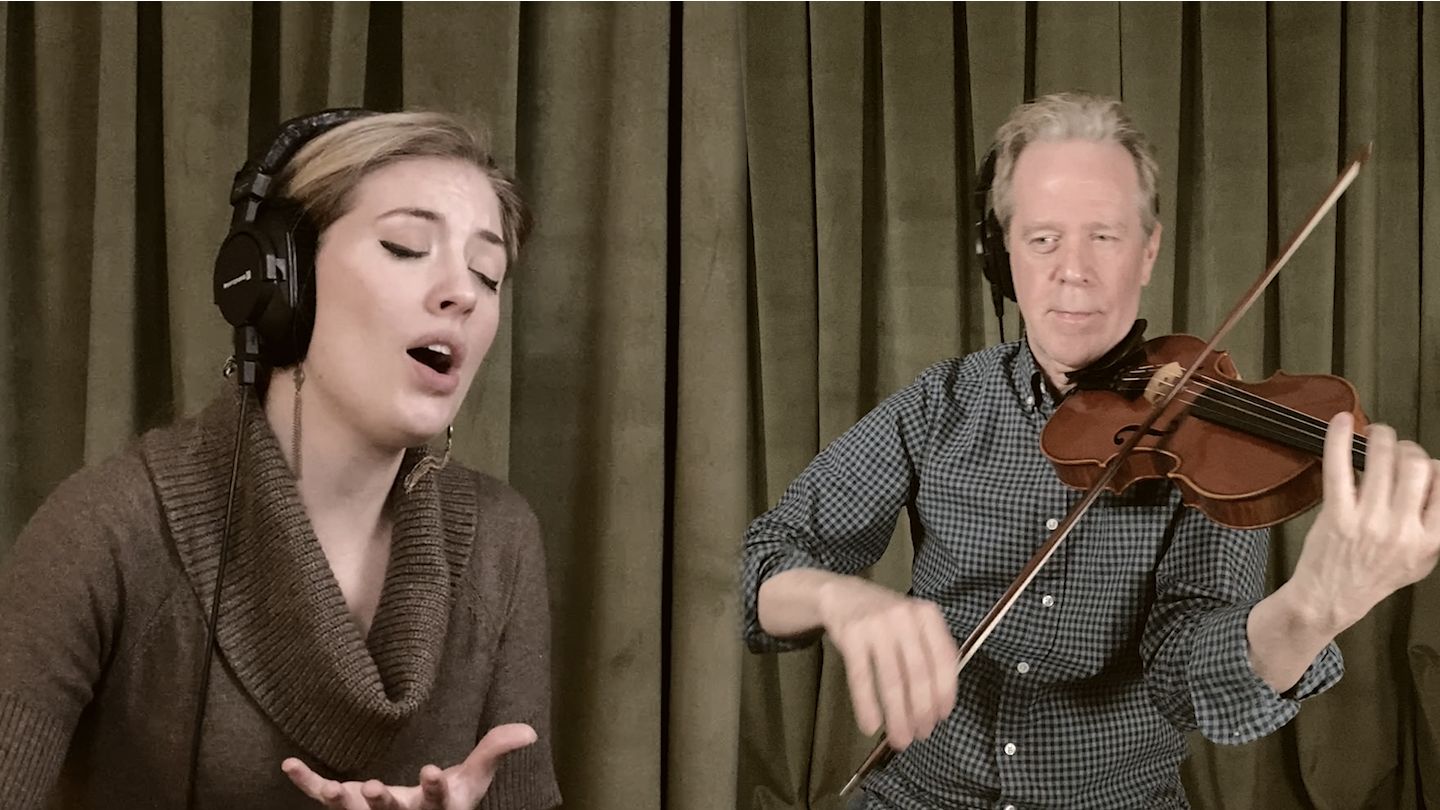 I have been collaborating with a marvelous singer named Amber Rose. Our first recording project went brilliantly and we are currently working on additional repertoire which we will eventually perform live, once the pandemic is under control. Here is a wonderful traditional Scottish ballad we did in my home studio: [Click Here to Watch]
Jan 2, 2021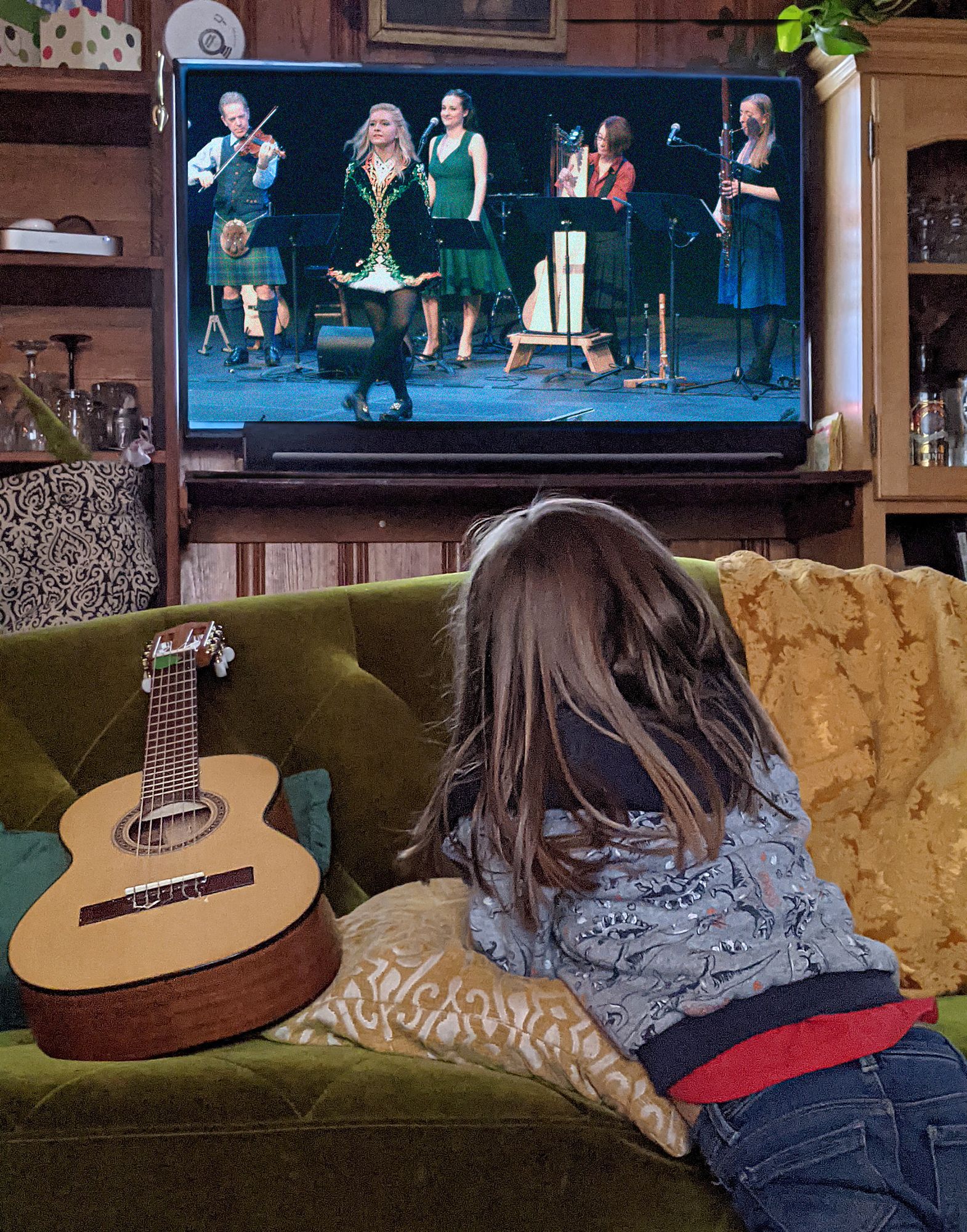 To my delight, my Christmas Zoom gathering held on New Year's Day enjoyed an exceptional turnout and felt uplifting and connected for everyone involved. Speaking live from in front of my fireplace, I played video clips from past performances of my Celtic Christmas production and conveyed the history and back story about each song.
To watch a playlist of videos which I presented that evening, [Click Here to Watch].
Dec 25, 2020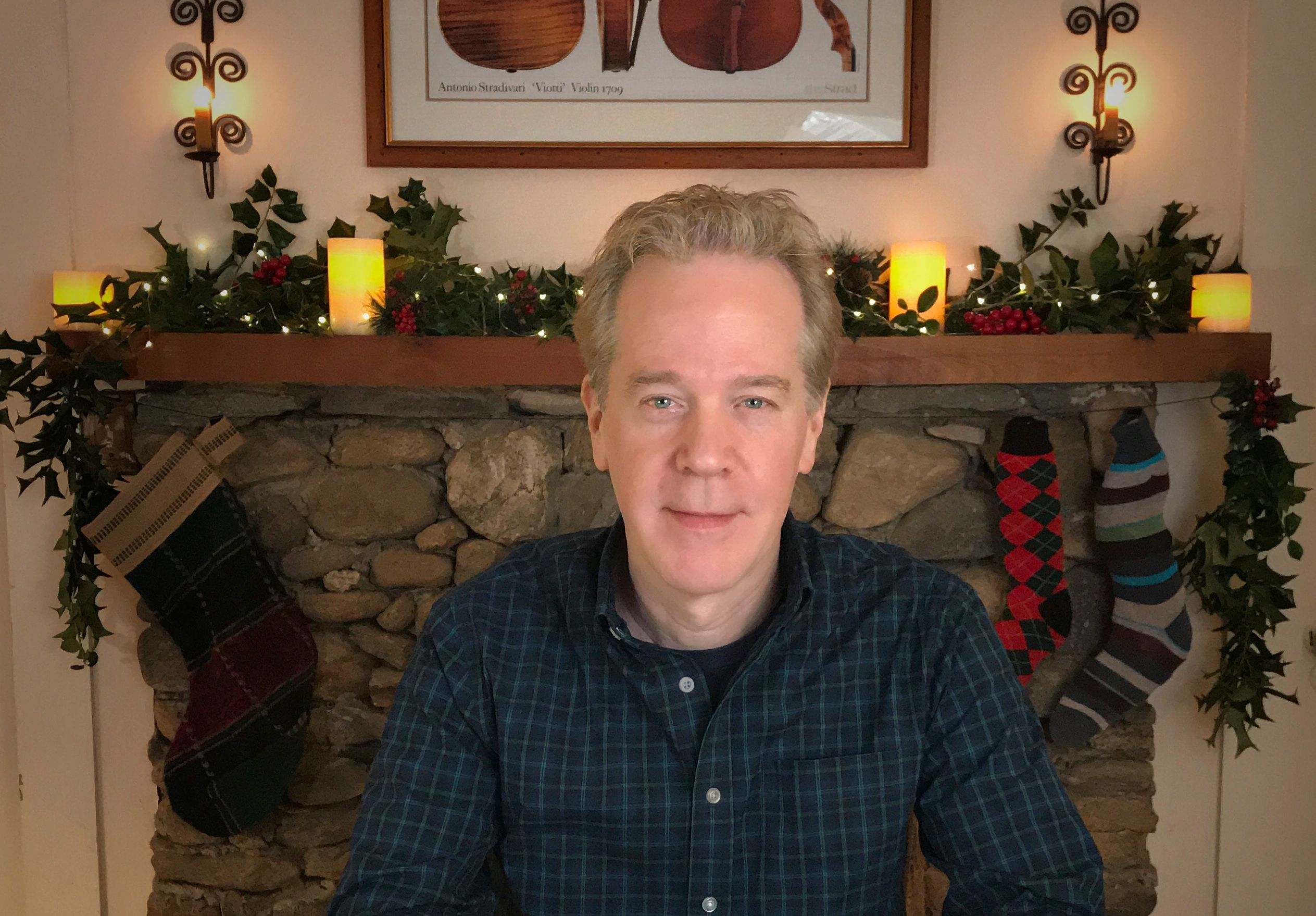 Merry Christmas, everybody! I hope you have been staying safe and have found ways of remaining happy and productive throughout this very difficult year. Here's wishing you a happy and auspicious 2021!
May 16, 2020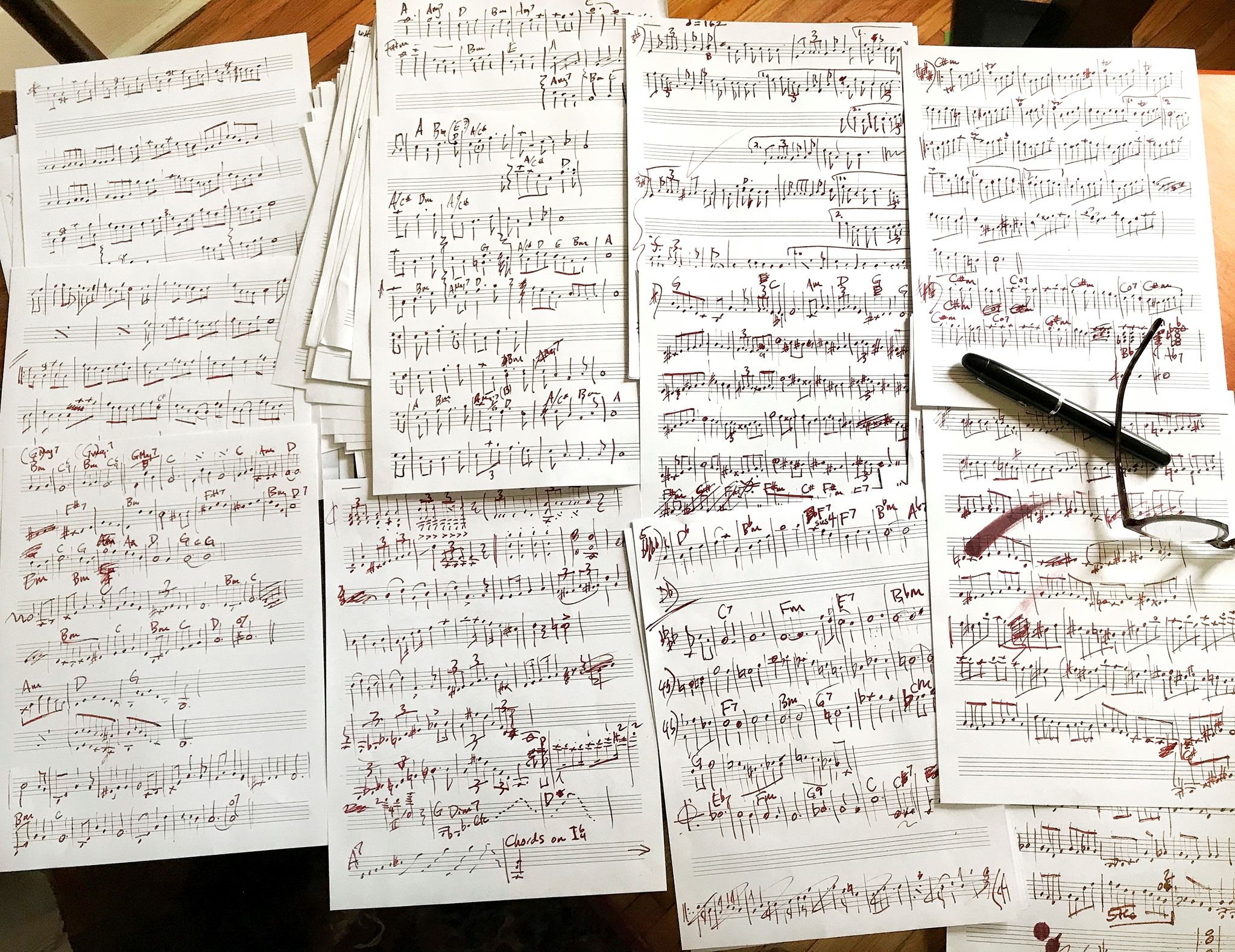 Hi, and thanks for dropping by my site to see what I've been up to during the lockdown.
I'm actually feeling happier now about my music career than ever. Previously, most of my time and energy was spent on booking gigs or creating public performances, and subsequently promoting those events. Now, being relieved of those administrative obligations until such time as a medical breakthrough makes live music performances possible again, I have been able to compose, practice, and record in my home studio more than ever before. I feel like a true musician now.
I feel very inspired to be hard at work composing several new commissioned pieces. The title of each will bear the name of the benefactor and/or make reference to a specific interest of the benefactor. I will include these pieces on my new, upcoming solo album and credit the benefactor in the liner notes.
Please let me know if you might be interested in initiating the creation of a new piece of music as a tribute to you, someone you love, or a noble cause.

March 17, 2020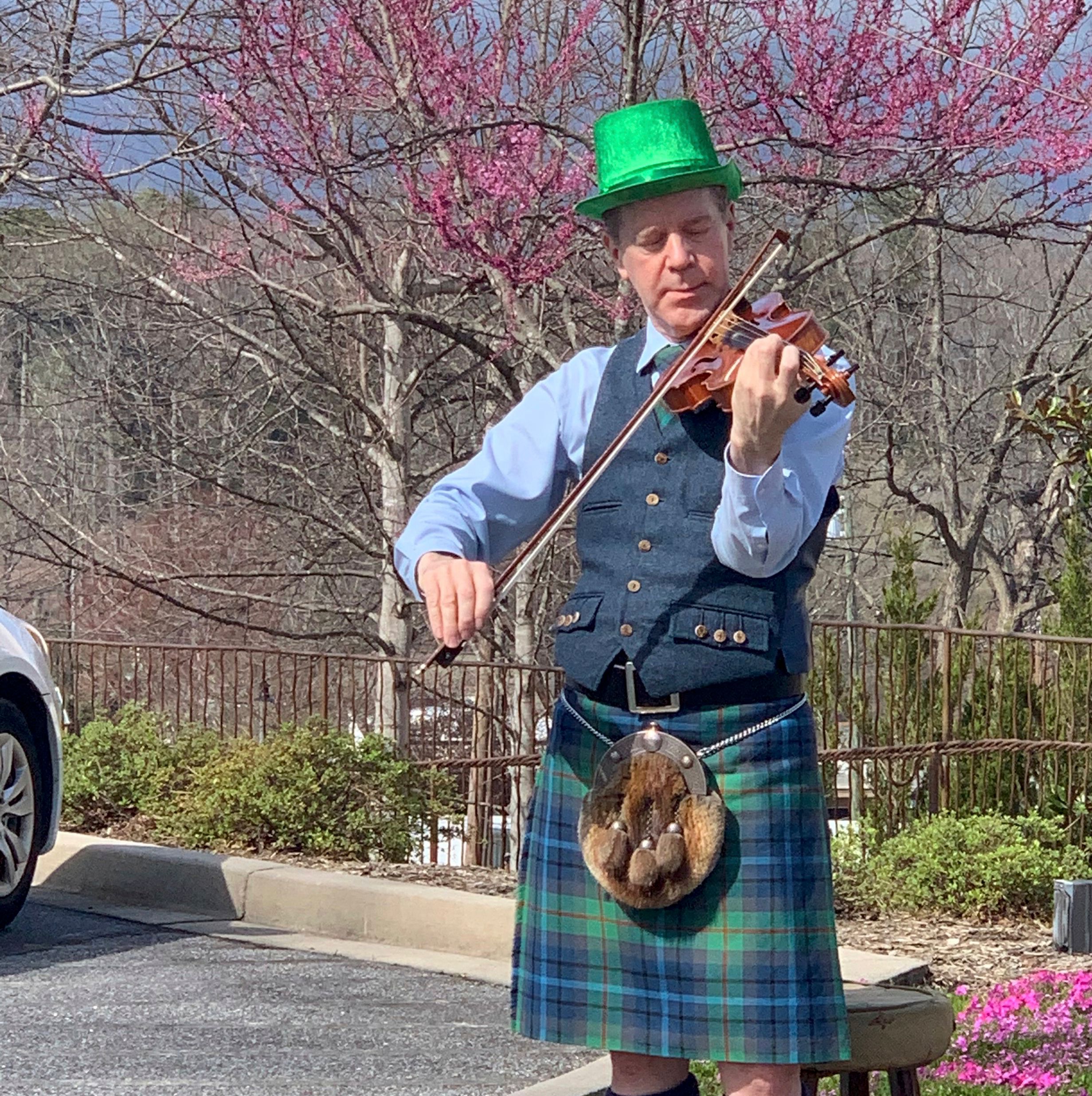 Celebrated St. Patrick's Day with a social distancing twist: I played Irish jigs in the parking lot of the Tryon Fine Arts Center.
People got out of their cars and stood 6-feet apart. There were lots of smiles as everyone reveled in the beautiful, sunny afternoon, tapped their toes to the music, and chatted merrily amongst themselves.
I was sorry not to have been able to play for the vulnerable members of the community who were unable to attend. That will all change once this is over!
March 13, 2020
Meanwhile, I'm experimenting a bit with online presentations. Yesterday's Facebook Live tests were a little frustrating in terms of acheiving a decent sound quality, but those who heard it really enjoyed it. Please join me on Facebook and/or Youtube. 
Jan 14, 2020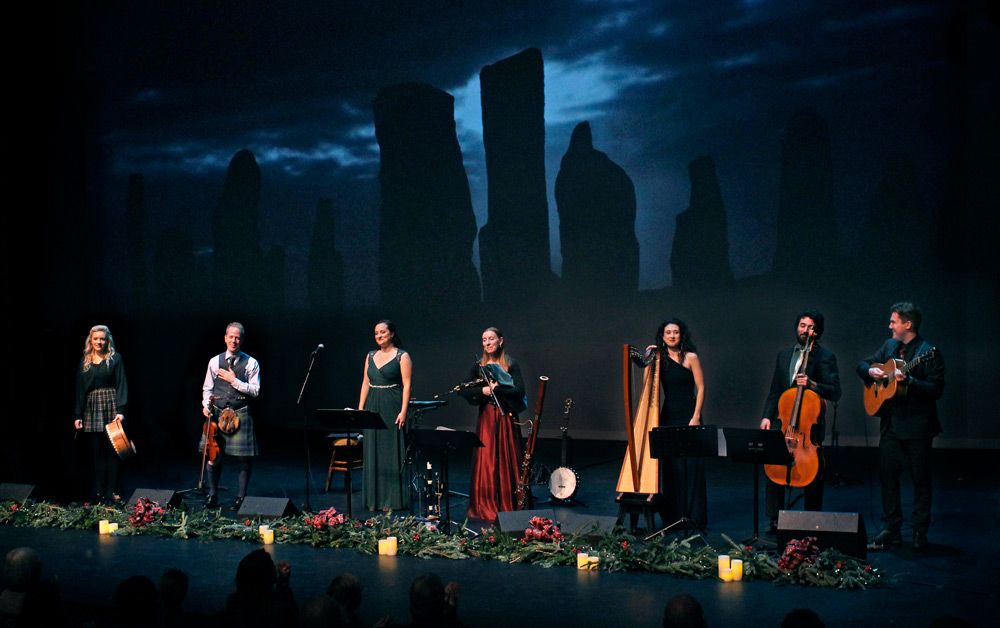 The 2019 Celtic Christmas tour hit a new benchmark this year, thanks to a superlative lineup of performers and a seamless and atmospheric production design. My favorite moment was when Irish dancer Claire Shirey emerged from the fog looking fairy-like in her dainty white dress and enchanted us with her gossamer effortless jig steps. Other highlights included a glittery, virtuosic arrangement of an old carol from Celtic Spain; a touching story about an old fisherman on his last run in his old black boat accompanied by off stage bagpipes; and an introspective carol from Brittany accompanied by the rustic croon of the ancient bombard (medieval oboe). 
Nov 28, 2019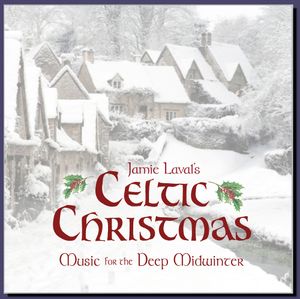 I am delighted to announce that my new Celtic Christmas album is finished. It has been a two-year labor of love which I hope listeners will enjoy for many years so come!  [Order Now]
Kind thanks to all the Kickstarter supporters for making this very special project possible. The development of the music was inspiring and transformative. The two-year long process of recording, mixing, and mastering took me to Scotland, England, Iceland, Massachussettes, New Hampshire, and several locations in North Carolina. I loved the adventure, even thought I admit the saga aged me considerably! I hope you enjoy the result, of which I am most proud.
July 28, 2019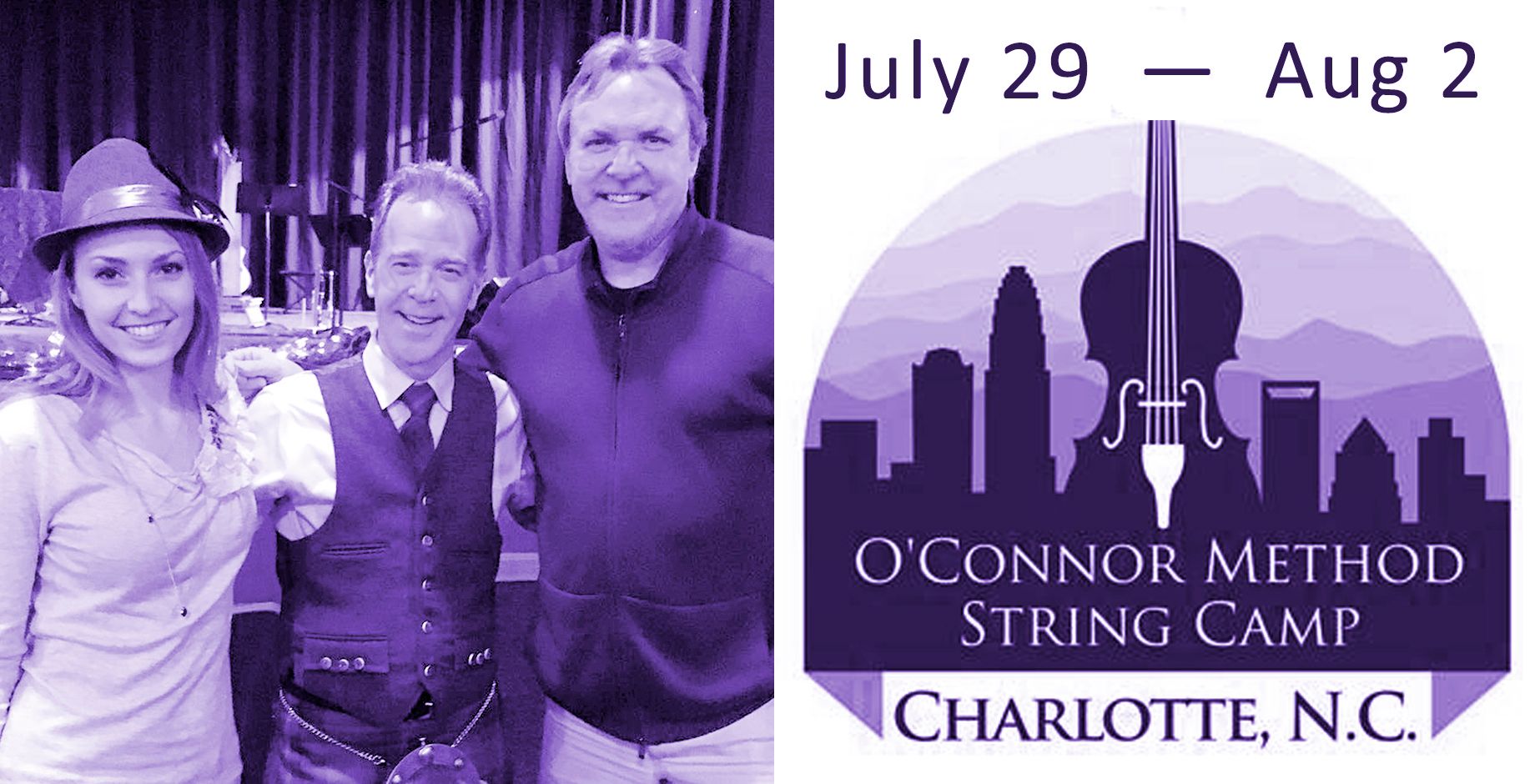 Last summer was my first involvement with the O'Connor Method String Camp and I was really amazed. The students were motivated, wonderful human beings and the staff was world-class yet superbly down-to-earth. I loved the format which seamlessly weaves together nearly every style of music. Gone are the days of compartmentalizing classical, bluegrass, celtic, world music, theory, etc, each into its own corner. This camp fosters respect and excellence in all genres. I am delighted to have been asked to return this summer. It runs July 29-Aug 2 in Charlotte. Info: http://www.oconnormethod.com/Camps.html
July 15, 2019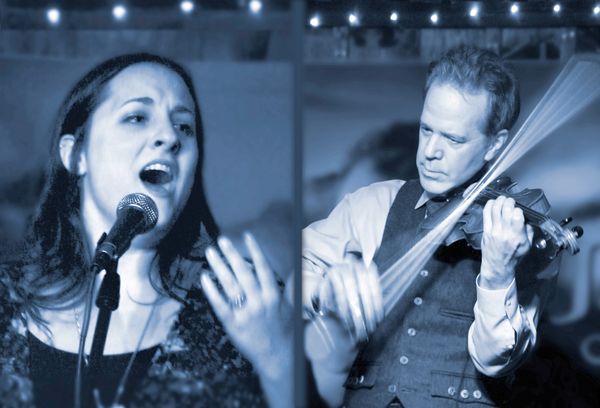 After a busy Springtime of touring and performing with Megan Megan McConnell, we are returning to play for our hometown crowd in Asheville this Sunday, July 21 at 7:30 PM. We have several new Gaelic songs worked up as well as a couple of surprising departures. [Details here]
Jan. 18, 2018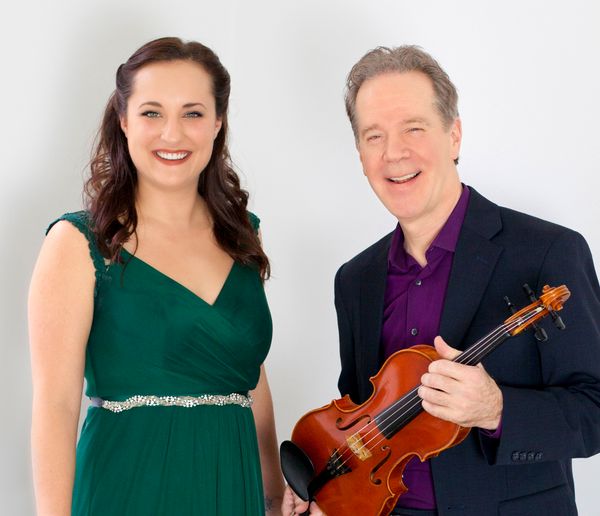 An inspiring duo collaboration with vocalist Megan McConnell has emerged out of our successful Christmas tour. Megan and I have several regional and national appearances planned this season unveiling our newest arrangements of ancient songs from the Hebrides and toe-tapping puirt a beul (mouth music) from the Scottish Highlands. 
Nov. 26, 2018
Thanks to 121 kind supporters, I am delighted to announce that our Kickstarter campaign reached and exceeded its goal. Production of the new Christmas album is now commencing at a vigorous pace.
 
Oct. 28, 2018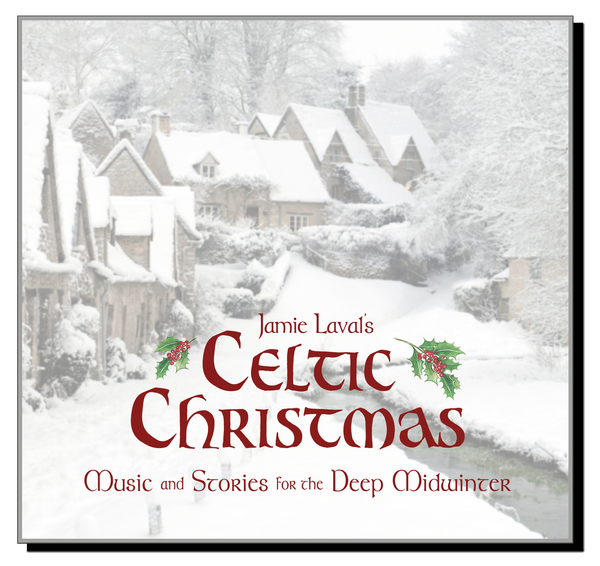 I'm excited to announce the launch of my Kickstarter campaign to fund the completion of the new Celtic Christmas album. Time is of the essence. We have just 21 days to reach the goal of $10,000. If the goal is not met within that time, we get nothing – zero (obviously contributions are returned to the backers. So it's all or nothing. Please consider getting involved by pledging your support for creating and releasing this beautiful and interesting new album. 
 
Oct 18, 2018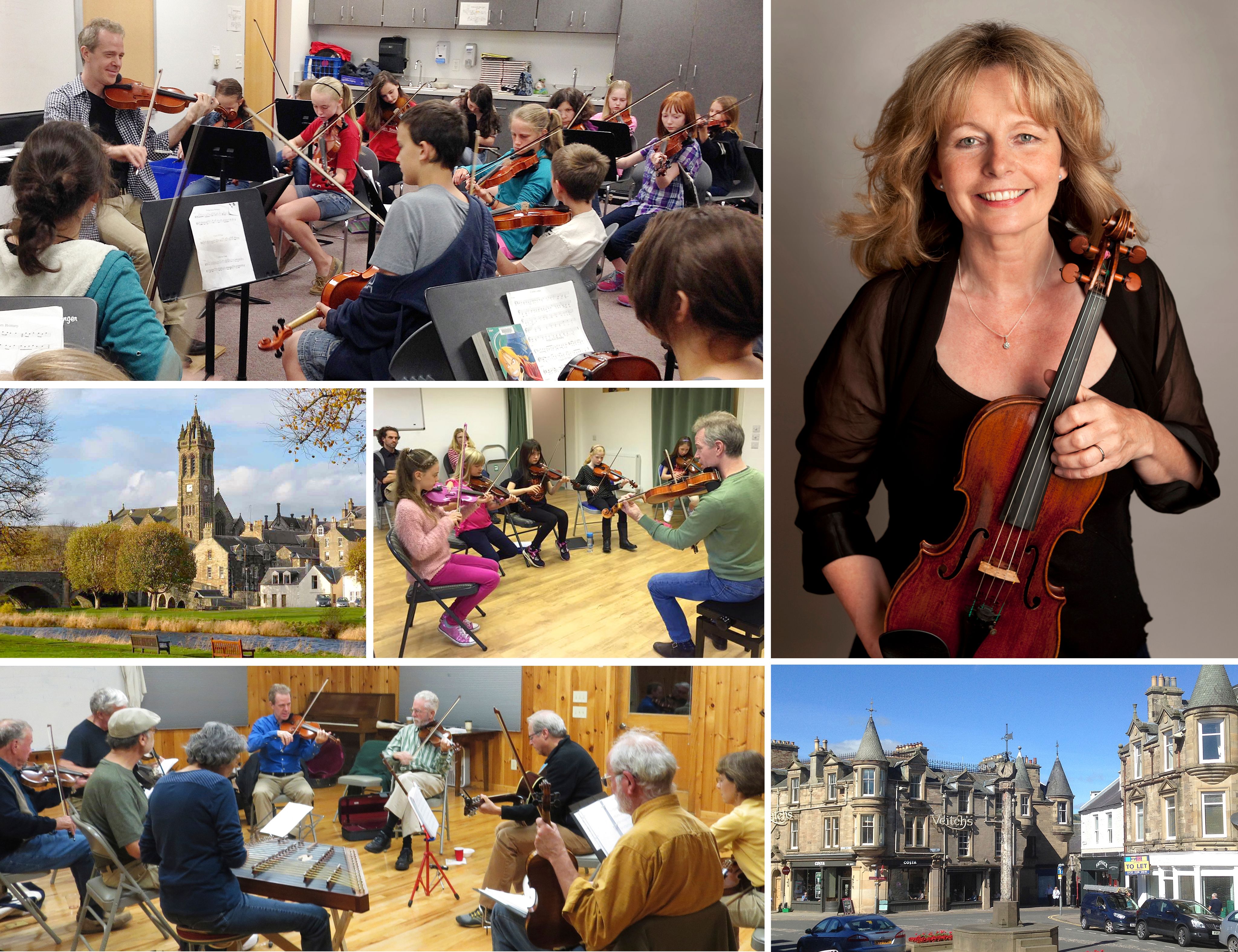 I'll be returning to Peebles, Scotland on Nov. 3 & 4 to team teach with Rosemary Warren-Green at the progressive Nomad Beat Community Music School. We'll give a series of four workshops and perform a culminating concert at the Eastgate Theatre & Arts Center. Registration and info [HERE].
Aug 28, 2018

My new concerto is finished. Orchestration completed and scores and parts delivered. Now it's time to practice like a fiend for the premiere on Sept. 27 with the Davidson Orchestra. Details here: https://goo.gl/BHSQWJ
July 29, 2018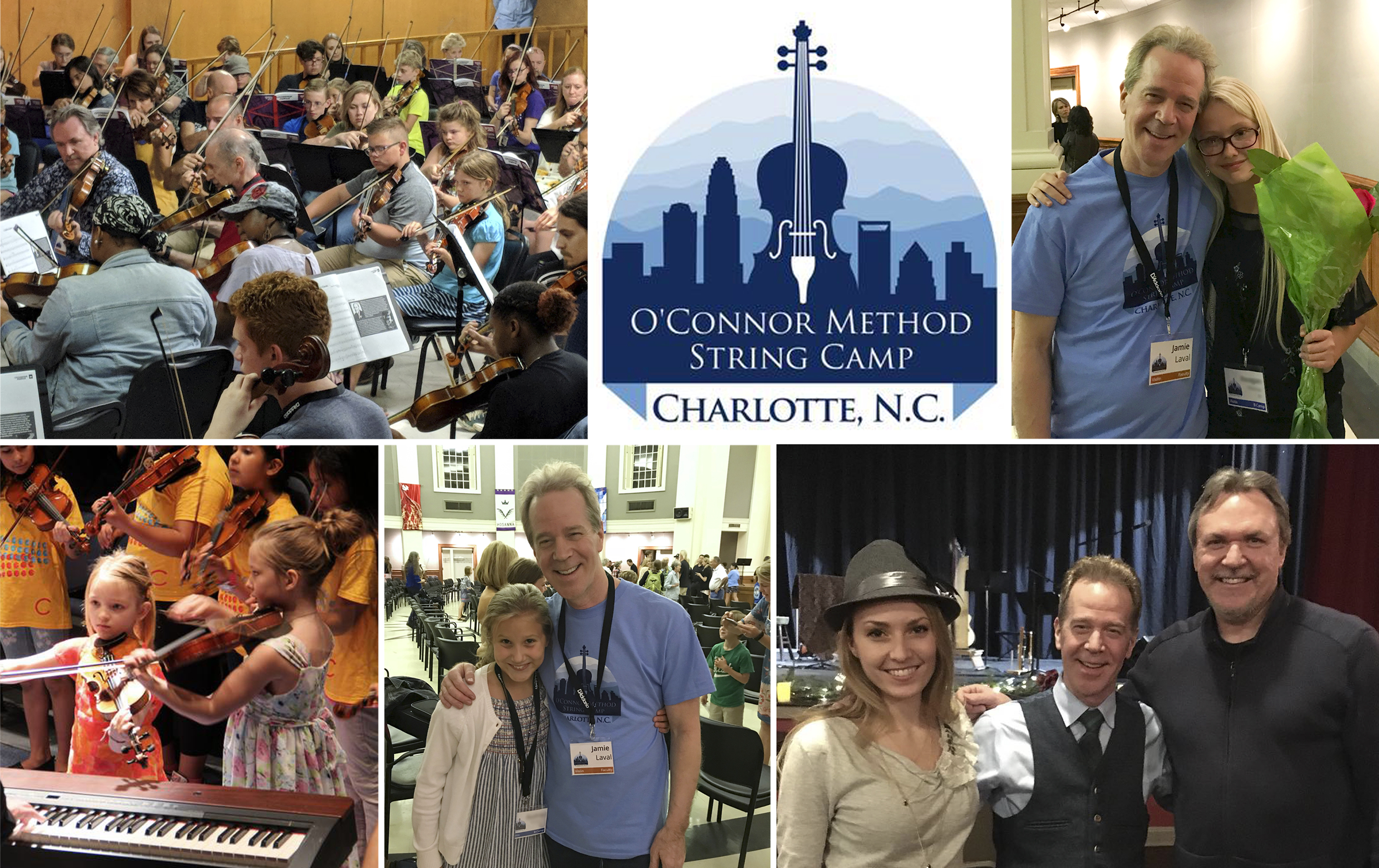 It all starts with great leadership. 
I'm just back from a magical week teaching with the team at the O'Connor Method String Camp. Both students and faculty bonded in a most remarkable learning environment which fostered creativity and genuine care for each other. 
Unlike other music camps at which I have taught, Mark and Maggie laid out a clear objective of what the camp is meant to accomplish. Gathered together were 21 like-minded faculty who share a universal vision and were able to engage and connect with students to help them grow as musicians and human beings. The teamwork was clear from the way each of the faculty connected with one another, both professionally and personally. 
It is not surprising, then, that the students who were drawn to this type of environment should themselves be such lovely people. Every one of the 150 students I met was fascinating, motivated, genuine, loving, and kind.
The experience was so positive that I am thinking of revisiting a long-forgotten dream of starting my own fiddle camp someday. Meanwhile, I wish every success to the O'Connors for the future growth and continued magic of their fantastic O'Connor Method String Camp in Charlotte.
June 16, 2018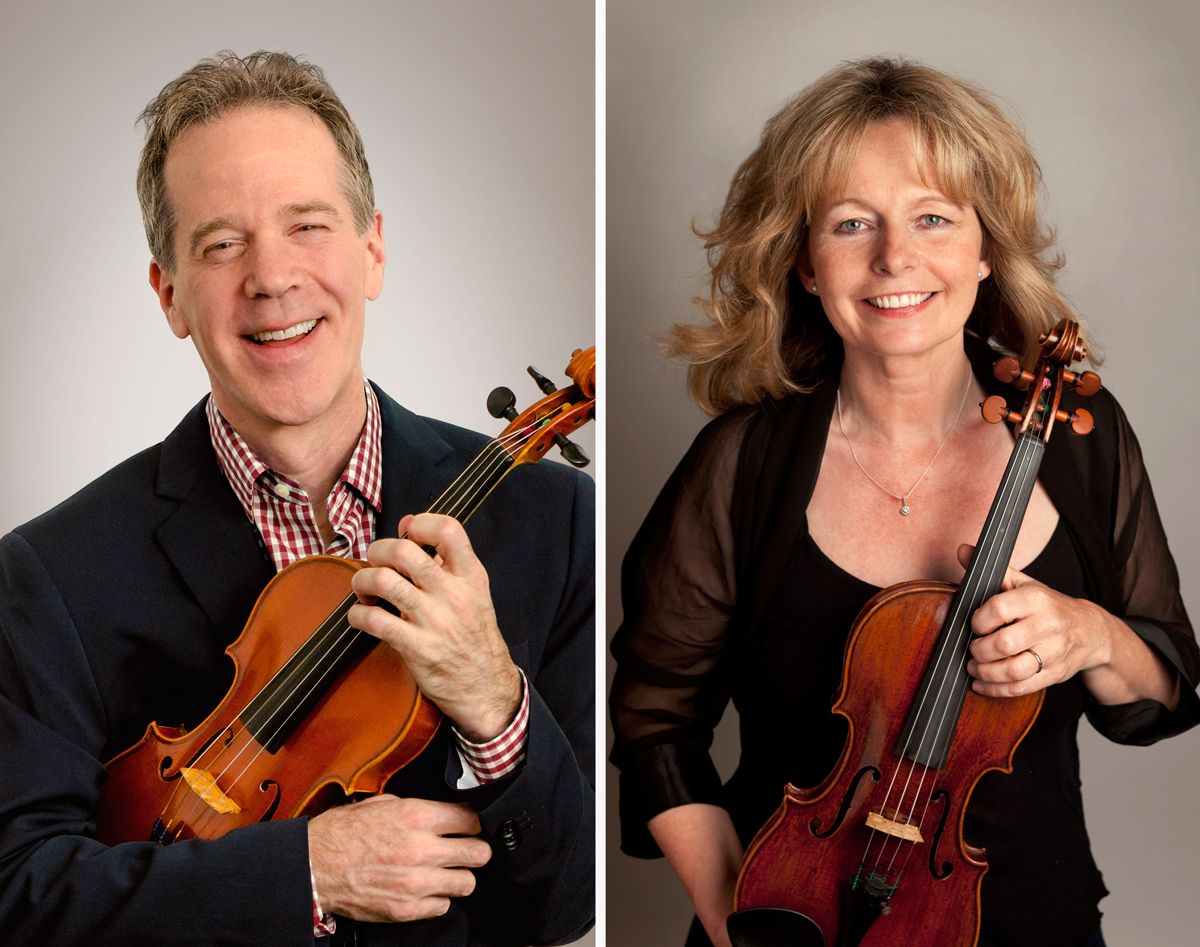 This Fall I have the unique privilege of performing with Rosemary Warren-Green, one of Great Britain's preeminent classical violinists. We will first perform my new concerto for violin & viola with the Davidson Orchestra in North Carolina. A couple of weeks later we meet up in England and Scotland to teach and perform some of my other duo pieces plus some classical duets. Click here for details.
May 18, 2018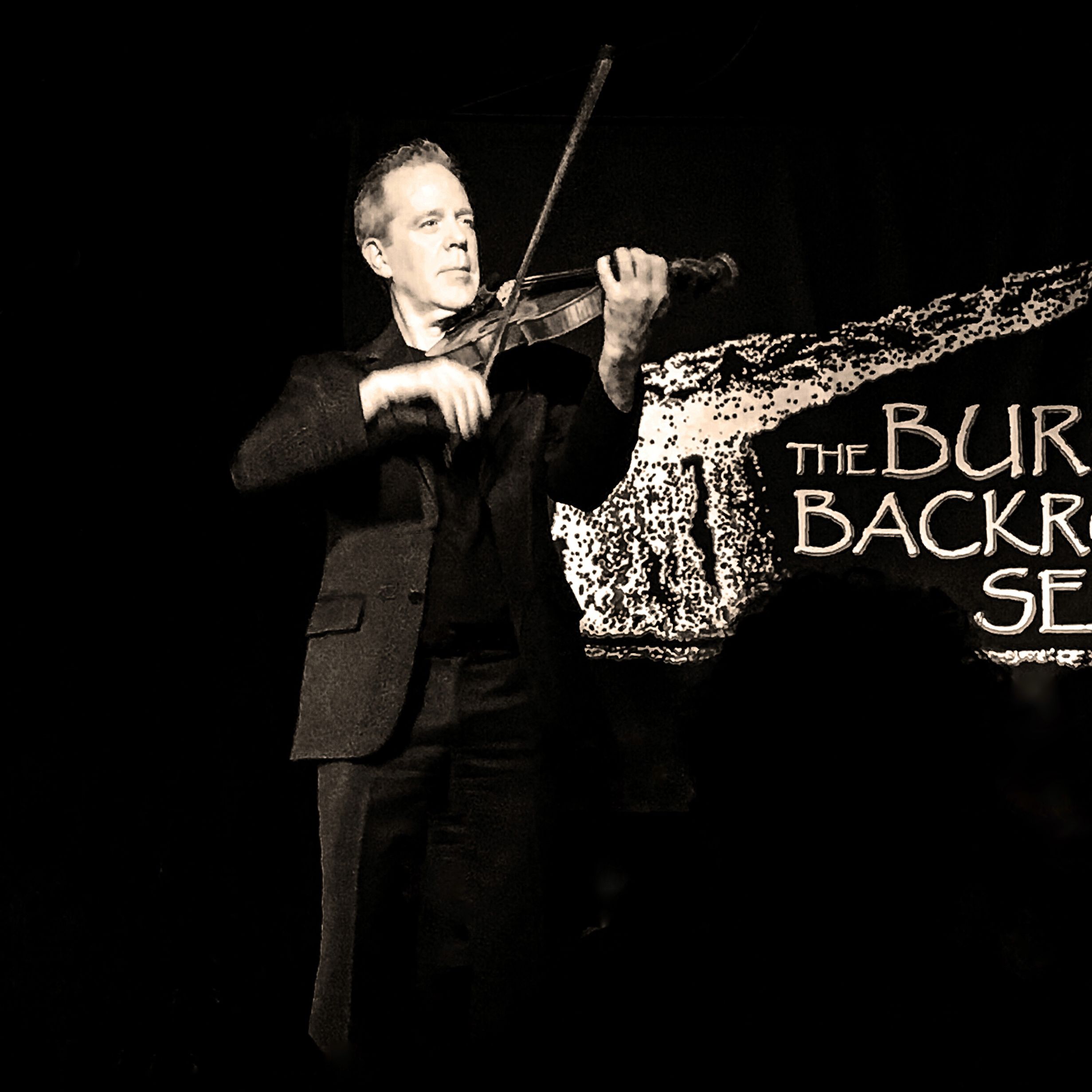 The New England tour was a heartwarming success. My first appearance in Boston and Northampton, MA was attended by knowledgable audiences who graced me with rapturous praise. WGBH radio host Brian O'Donovan gave me his musical endorsement and invited me onto his program Celtic Sojourn. A cozy concert and workshop in rural Peterborough, NH provided an airy, relaxed reprive from the bustling city. The final engagement was a teaching stint in the beautiful Berkshires, where Erika Ludwig has built an affectionate community of ardent adult fiddlers. I can hardly wait to return to this stunning part of the country.
April 6, 2018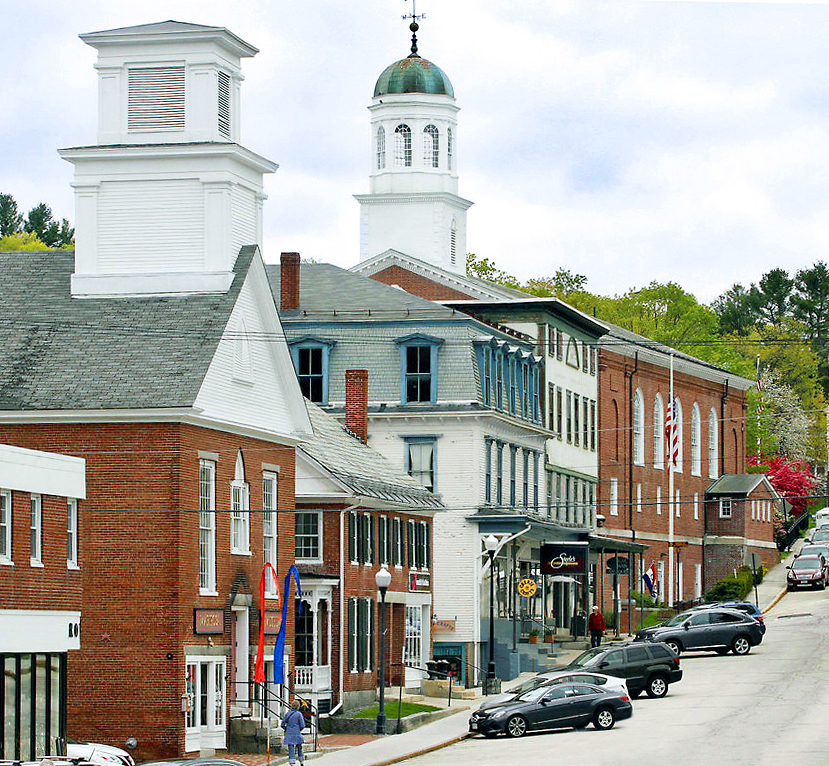 I'm so looking forward to my upcoming tour to historic New Hampshire and Massachusetts. I adore the mansard-style architecture from days of old and the cozy, walkable neighborhoods. I'll be in Boston on May 9, Peterborough (pictured) on May 11/12, and Northampton on May 13. 
[Details Here]
Mar. 20, 2018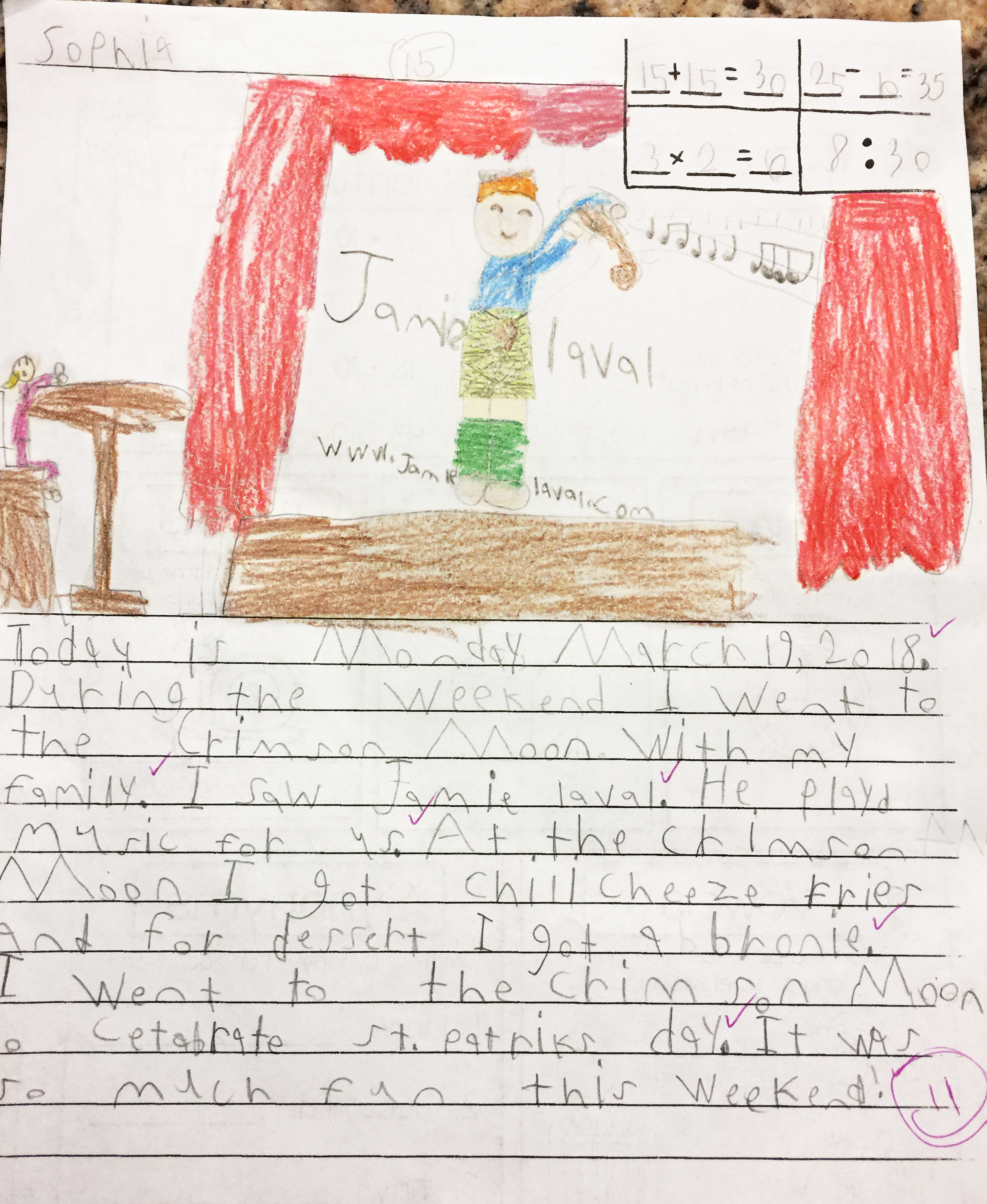 It's heartwarming to see one's legacy taken up by the next generation. Thanks, young Sophie!
Mar. 6, 2018
Rosining up my bow for 4 upcoming St. Patrick's-themed performances!
3/17 - Dahlonega, GA (https://goo.gl/2DYToz)
3/18 - Charlotte, NC (https://goo.gl/huq97i)
3/22 - Defiance, OH (https://goo.gl/qexBor)
3/24 - Fletcher, NC (https://goo.gl/gxMcmG)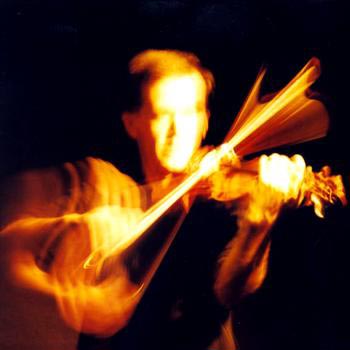 Dec. 26, 2017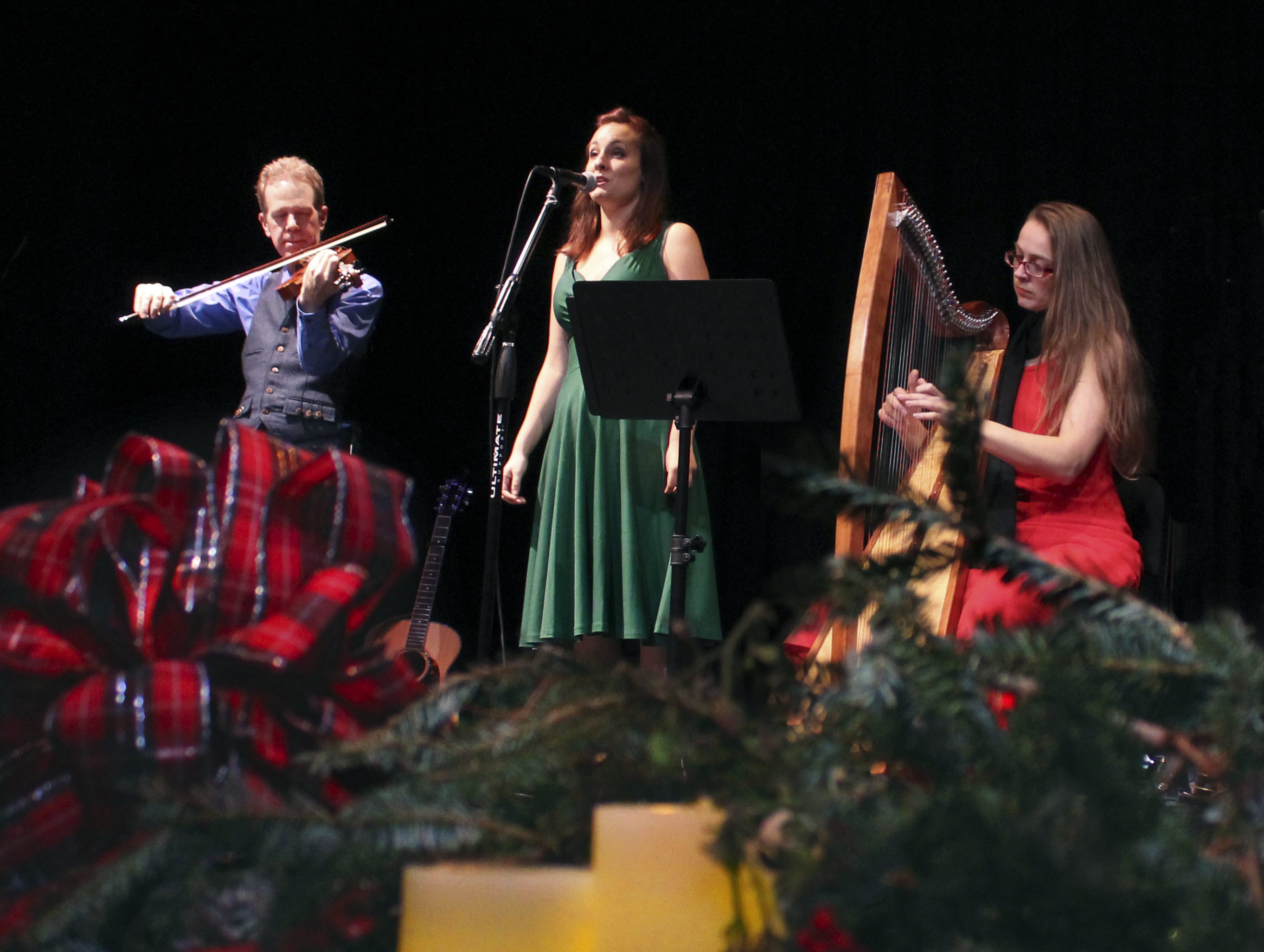 Our Celtic Christmas tour starts tomorrow in Southern Pines, NC and continues in Asheville, Charlotte, and Tryon. Info and tickets [HERE].
Nov. 26, 2017

Rehearsals in progress for the my Celtic Christmas tour playing in Southern Pines, Charlotte, Asheville, and Tryon, Dec. 27–30. [Click here for info and tickets]
Nov. 14, 2017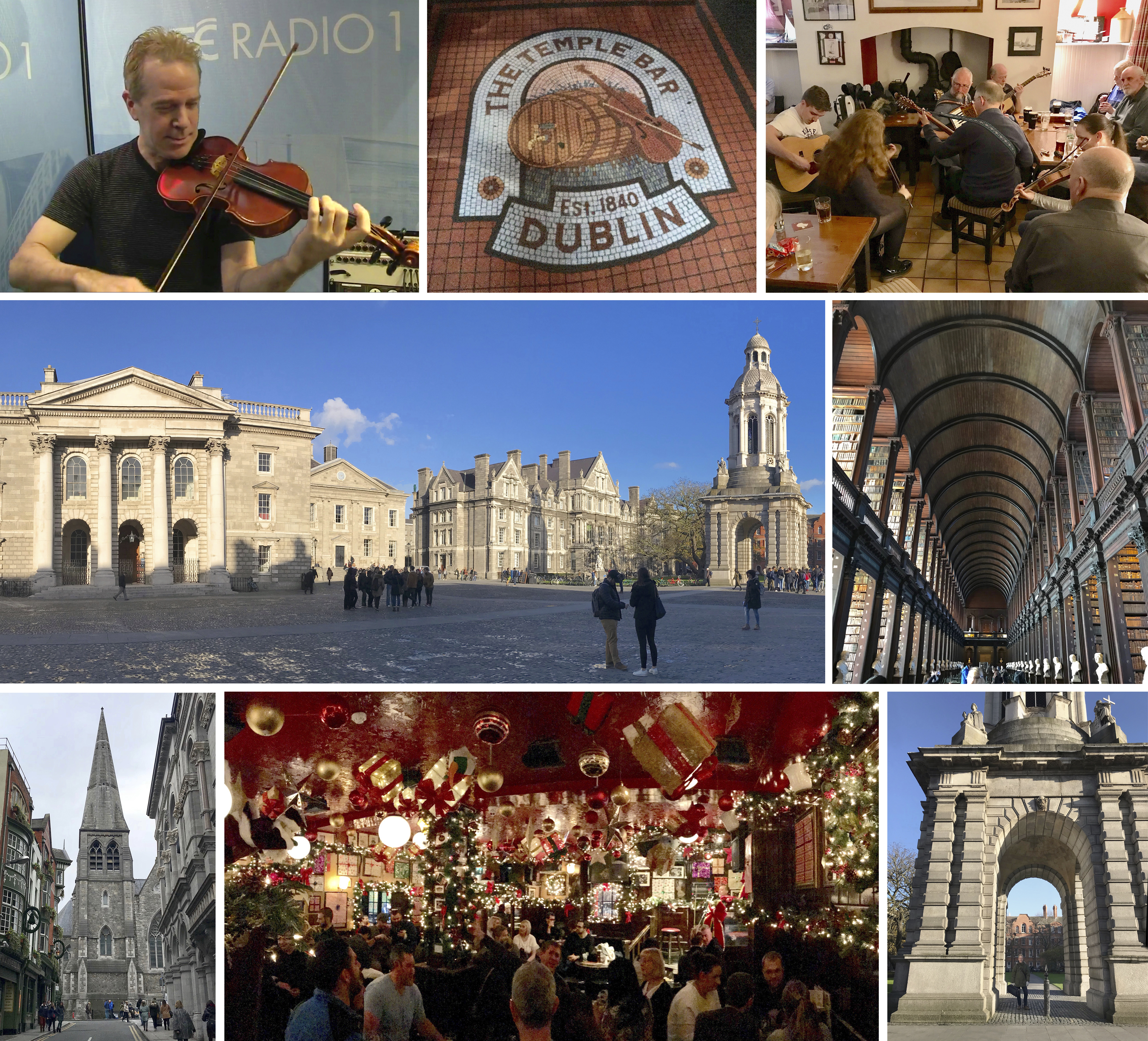 My 8-week tour finished on a high note in Dublin, Ireland. Destined to become London's replacement as the business epicenter of English-speaking Europe once Brexit happens, I found Dublin to be a vibrant, exciting cultural mecca. RTÉ One invited me to perform on the "Today" show, one of their most-listened-to radio programs. Tune sessions ensued every night lasting into the wee hours of the morning. The final concert at Áras Chrónáin Irish Cultural Center was met with some of the warmest, most sincere and welcoming attendees of the tour. On two separate occasions an audience member stood up and gave an impromptu speech to the assembly about how moving they found the concert to be.
Nov. 1, 2017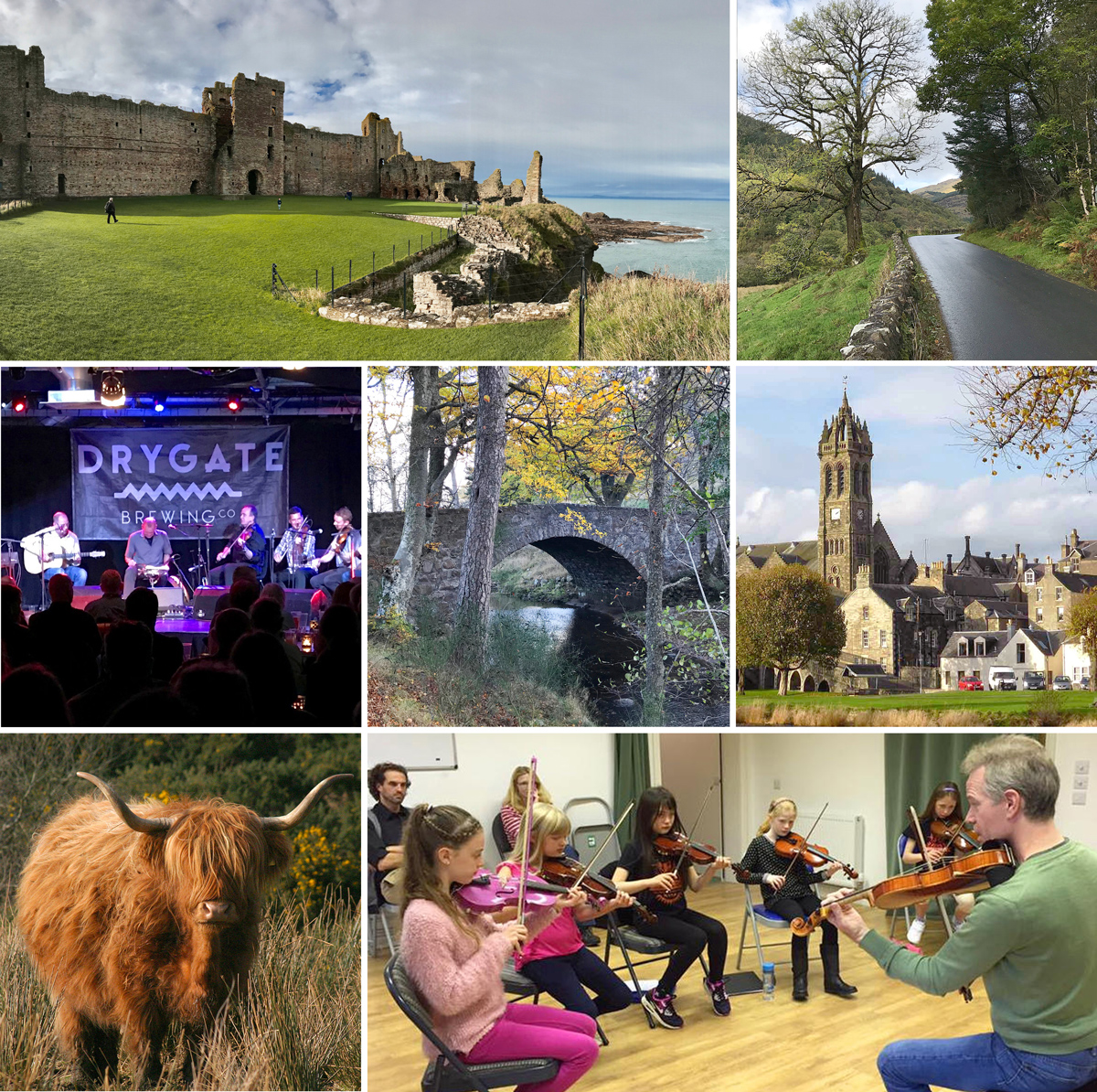 Just finished a 4-week tour in Scotland. As always, the lush green in the deep, misty glens of Argyll uplifted my spirit. But this trip also acquainted me more than ever with the delights of the great city of Glasgow with its vibrant music culture and handsome, historic stone buildings. A trip south to the Scottish borders brought me for the 4th time to idyllic village of Peebles for a superb teaching experience. Between gigs there was plenty of time to hear other musicians and visit several magnificent historic sites. Tour photos [HERE].
Sept. 4, 2017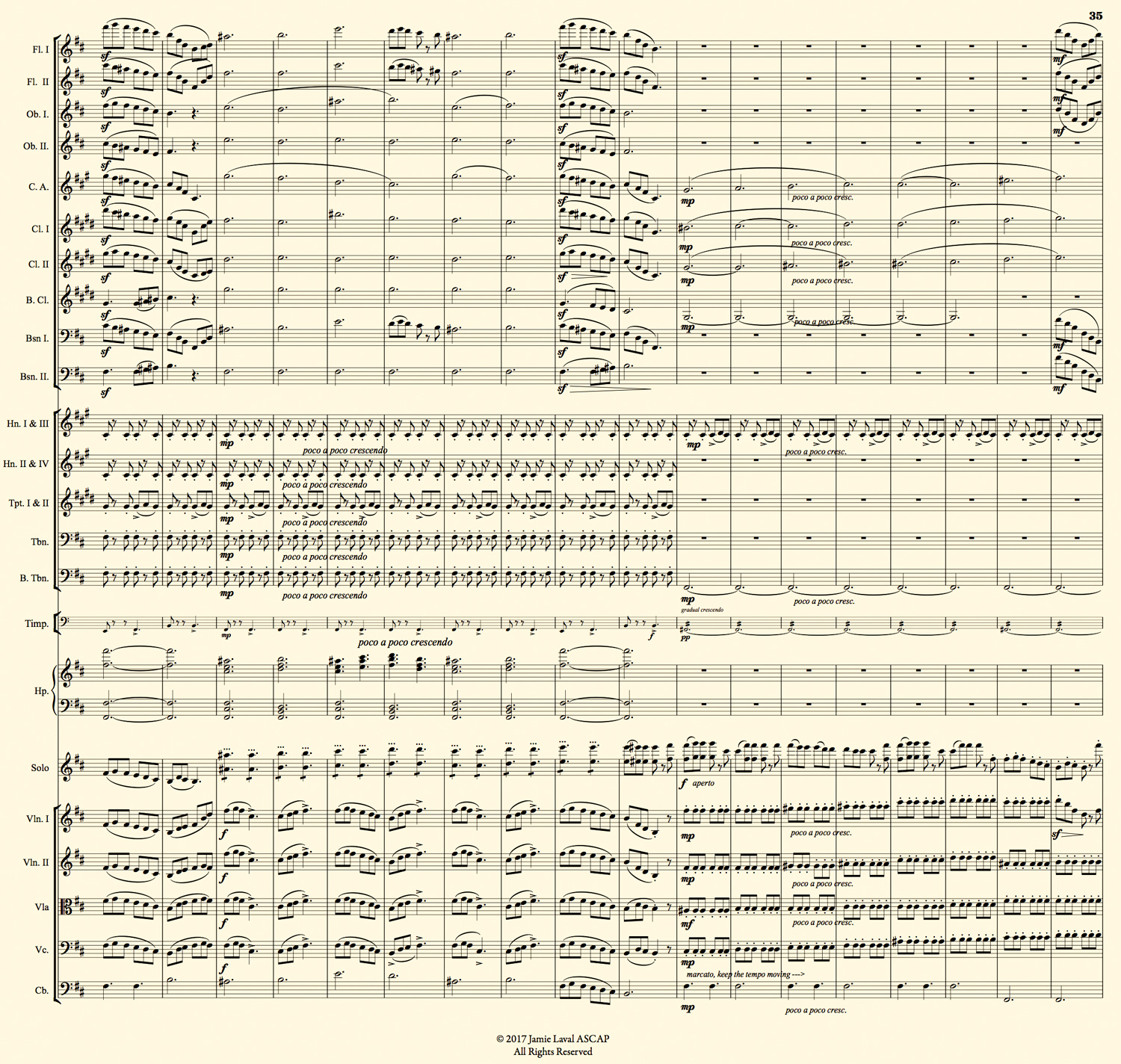 Writing my own music has been one of the extremely satisfying and rewarding outcomes of deciding not to follow a conventional career path in music. I am very happy with my two new scores which I will perform for the first time with the Hendersonville Symphony on Saturday, Sept. 9. [Info here]
July 11. 2017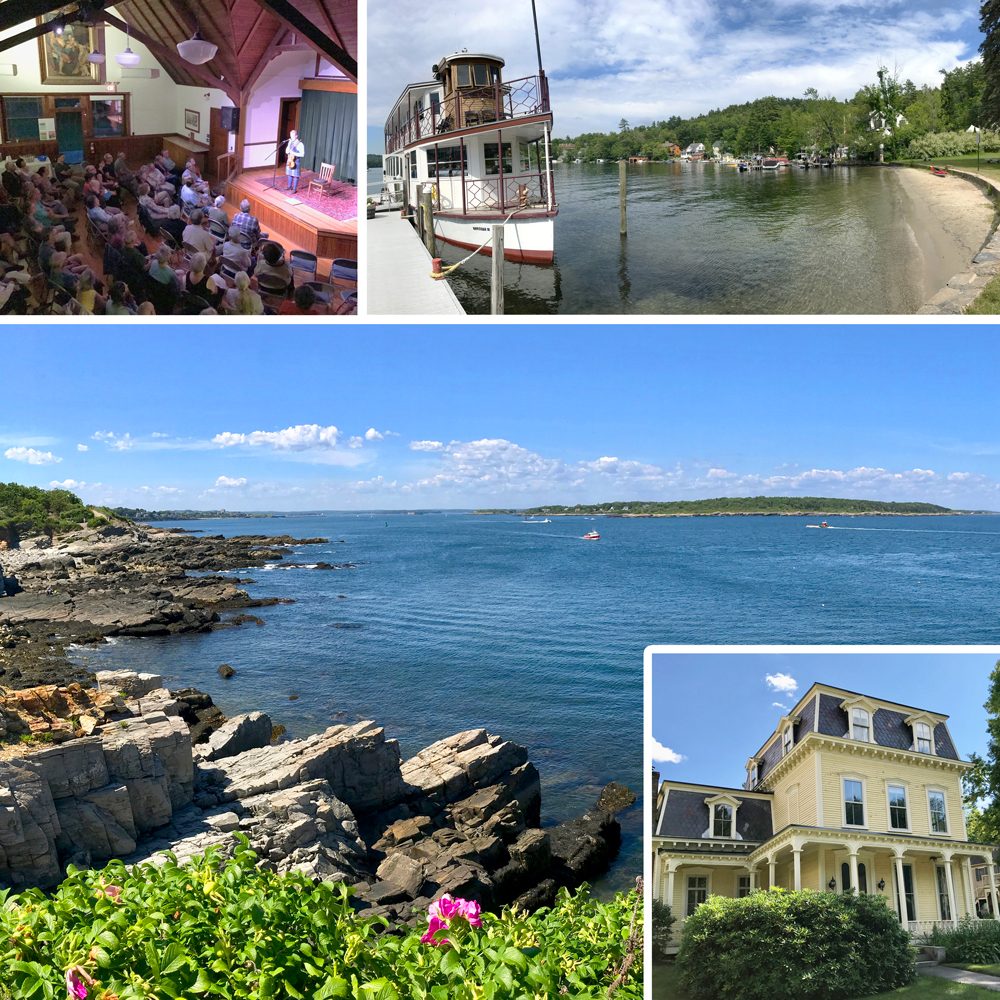 Just home home from a blissful 18-day concert tour in New England. (Car's odometer now at 353,869 mi.)
The concerts took me through some of the most scenic places I've yet seen in the U.S., including Portland, ME; Montpelier, VT (Bernie country...yay bernie!); the sublime Berkshire Mountains of western MA; upstate NY; and the vacation paradise of Sunapee, NH.

Erika Ludwig of Berkshire Strings organized a magical welcome at the Dewey Hall, a magnificent stone community meeting center built in 1887 and lovingly maintained by the Sheffield community (near Tanglewood).

Jane Bradbury and Ed Rosenburgh put together a smash success at the Unity Hall, an historic meeting hall of the Unitarians, located in a tiny town called Barneveld near Utica, NY. Tons of people attended and the audience connected with me in a beautiful way that I'll never forget!

And what a wonderful surprise: Francestown and Sunapee in New Hampshire! That was a new area to me, and I was delighted to connect with countless people who are environmentally conscious, brilliant and worldly, art-loving, musical, social activists, and deeply humanitarian.

Special thanks to Vic Reno, Susan Reid, Donna Hopkins & John, Marcy & Ted, Francelle & Bix, Jane Bradbury, William Bradbury, Erika Ludwig & Tony, Alex Ludwig, Paula Moore & John, Dean Bradbury, and extra special thanks to Jonathan Bagg & Laura Gilbert at Electric Earth Concerts.
July 4, 2017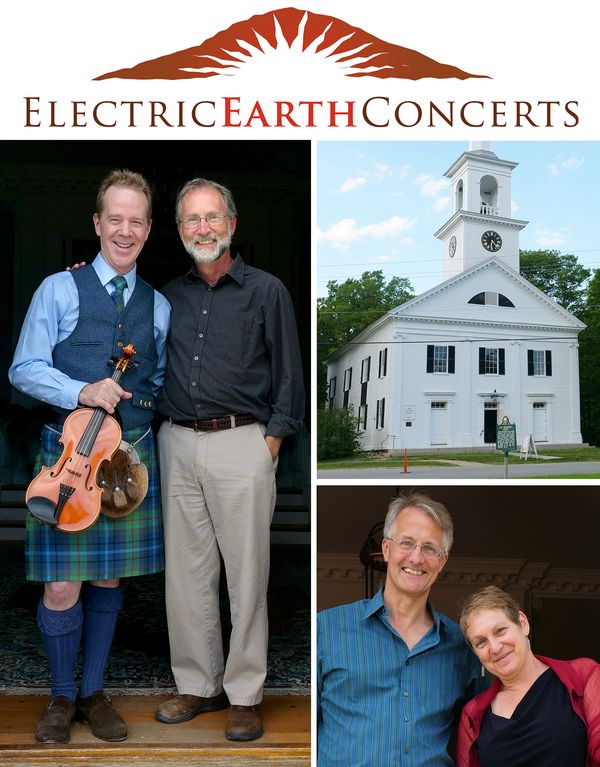 Musical directors Jonathan Bagg and Laura Gilbert invited me to perform in their distinctive, concert series, Electric Earth, based in Peterborough, NH. Within the magnificent acoustics and postcard-perfect, early American architecture of Francestown's Old Meeting Hall, we performed the premieres of two new compositions – one by Cal State Univ composer William Bradbury (standing next to me), and one by me based on traditional tarantella tunes from Brittany. The event was an inspiring musical achievement and a taste of classic New England. http://electricearthconcerts.org
June 22, 2017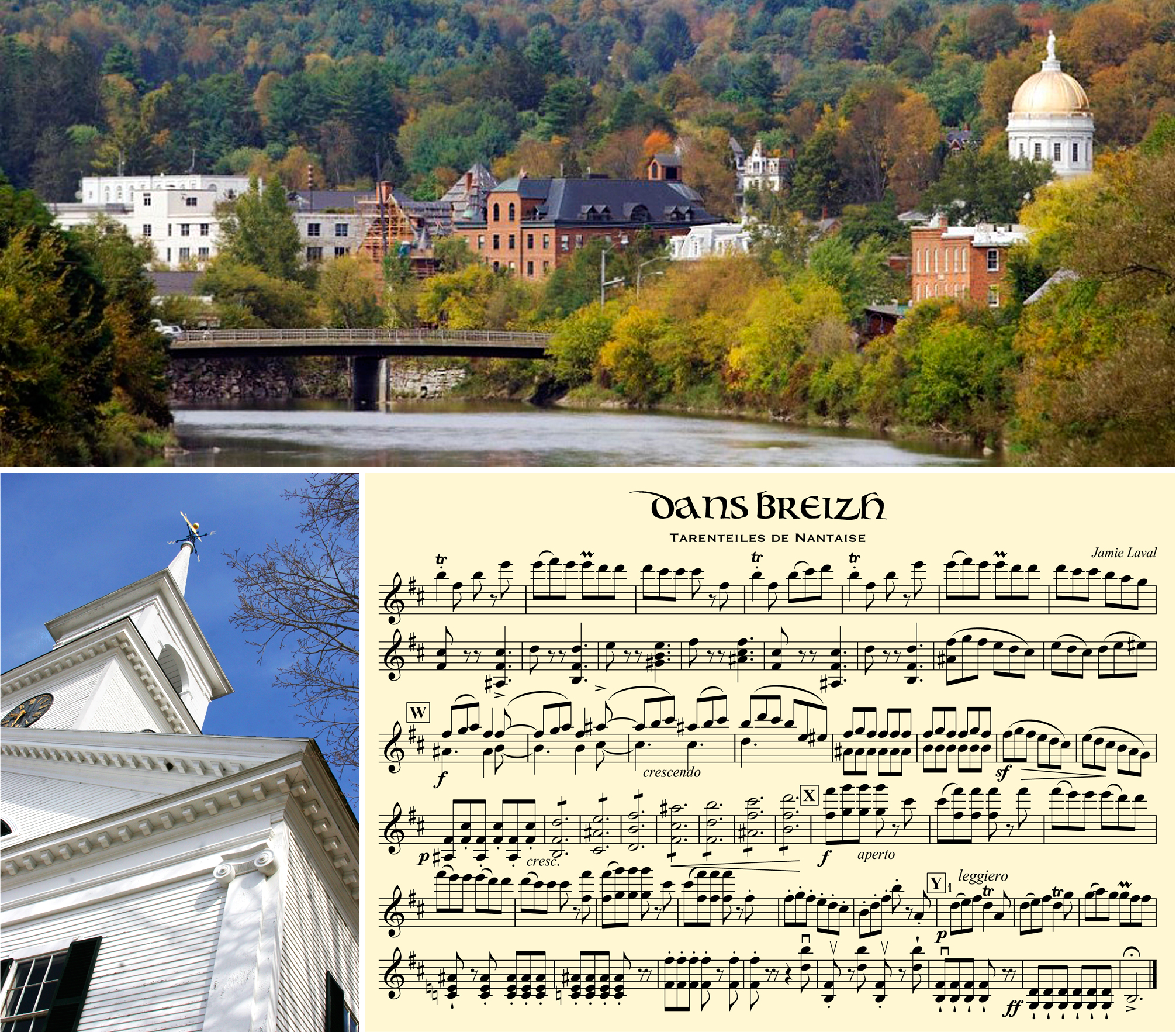 If you live in New England, please join me in southern NH, western MA, upstate NY, or middle Vermont during my tour starting this Sunday. I'll be performing the world premieres of two new compositions (one by me, one by William Bradbury of Cal State Univ.) in lovely, historic venues such as the Francestown Old Meetinghouse. Tour details here: https://jamielaval.com/events
May 20, 2017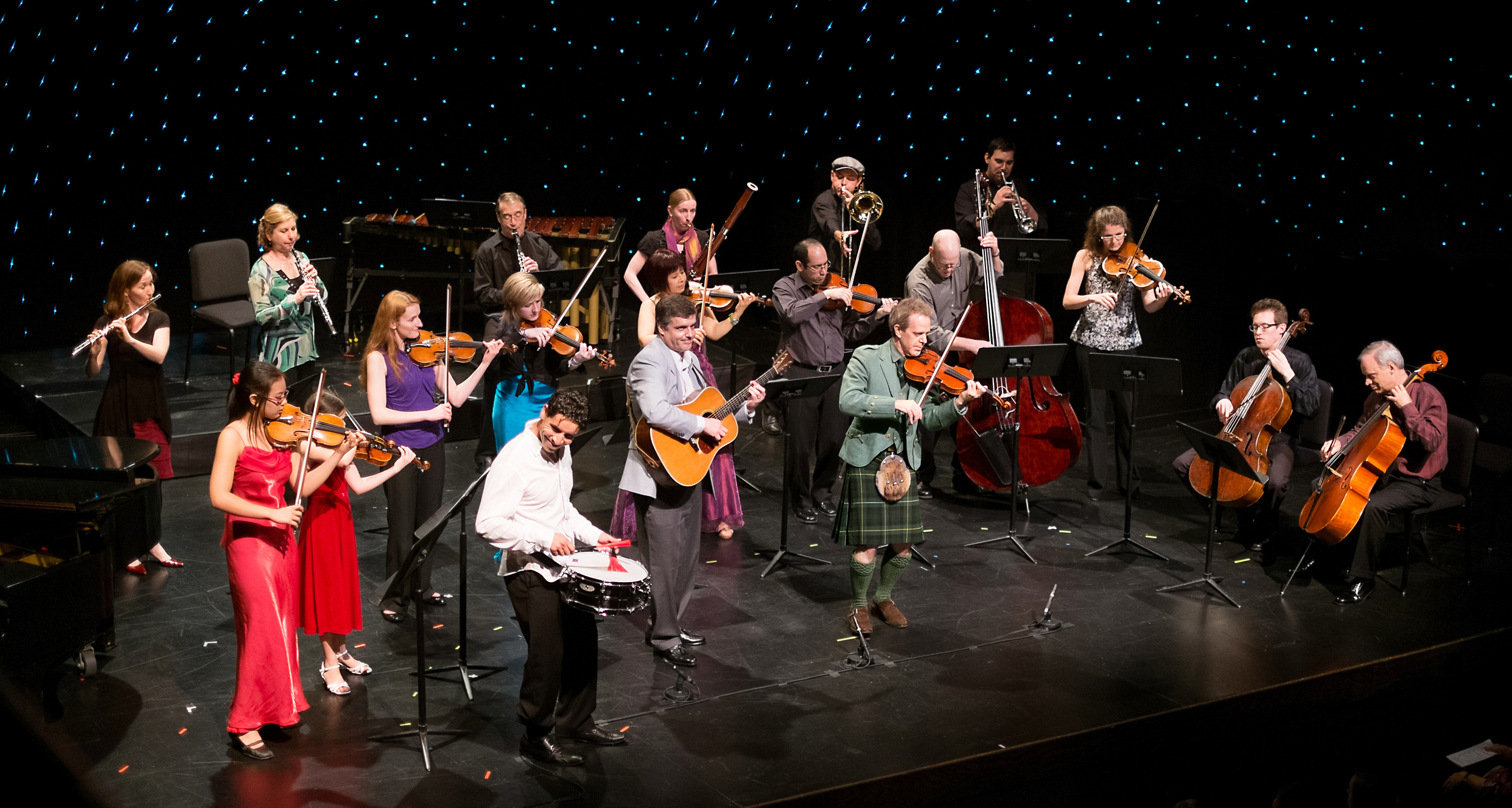 Classical Idol was a fund raising event for the Charlotte Symphony in which I was invited to participate a few years ago. During the performance I premiered my new composition, "The Sea Is My Delight", which was orchestrated for the large ensemble pictured below. Later I revised the score and performed it with the Hendersonville Symphony [click here to watch video]. Thanks to the great musical and personal chemistry with the orchestra and maestro Thomas Joiner, I have been invited back as soloist this September [details here].
April 20, 2017
How fun ... I was on T.V. tonight.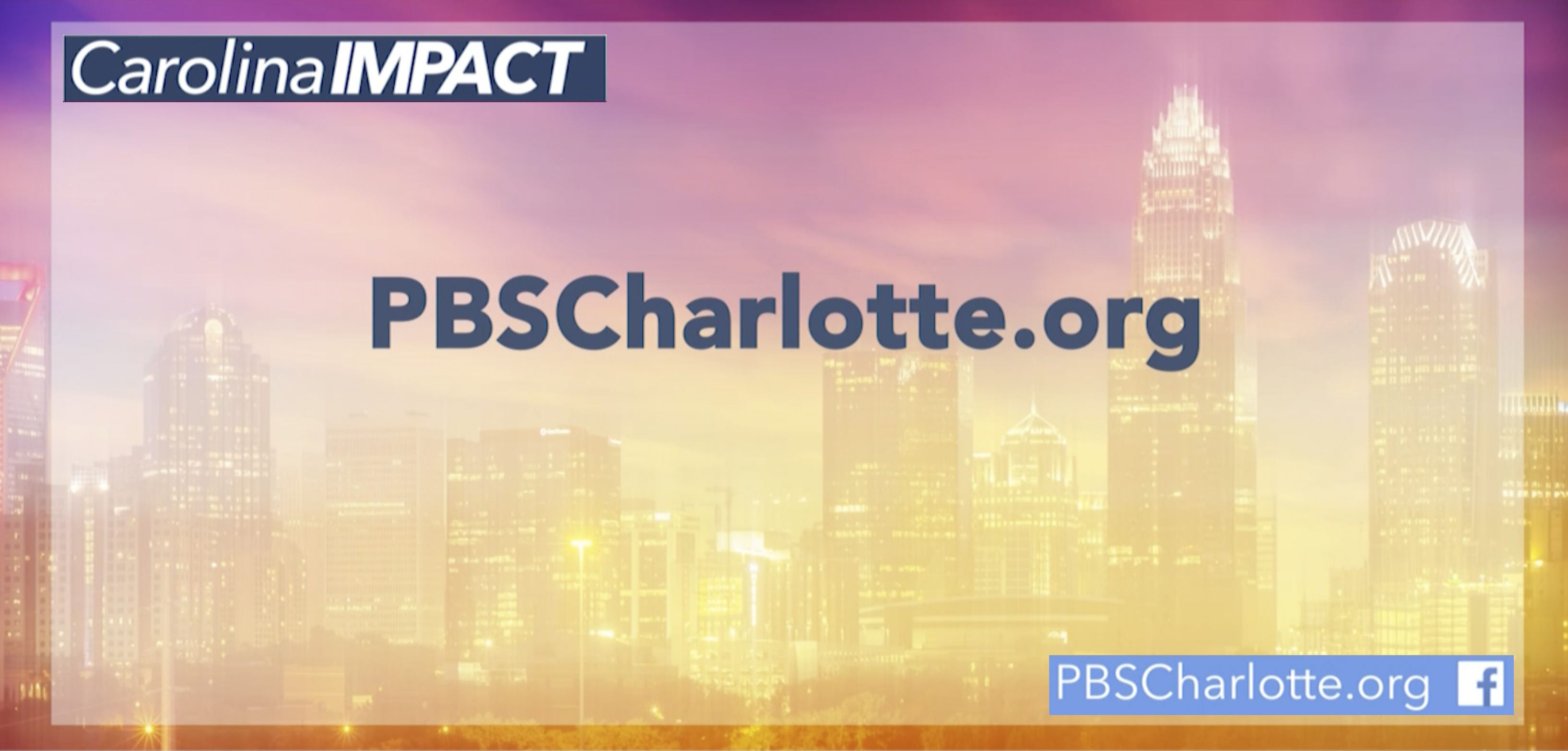 Mar. 16, 2017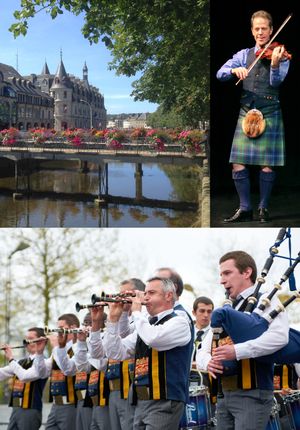 St. Patrick's Day concert tomorrow in Dahlonega. I'll be wearing my new kilt and playing bombard music from Brittany (Celtic France). My good friend Damian Morrissy (from Canada) will join me on guitar for a few tunes. Only 14 seats left. http://www.thecrimsonmoon.com


Feb. 5, 2017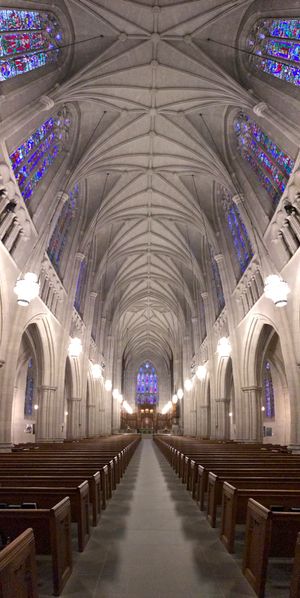 Shot this vertical pano on my iPhone while sightseeing around Duke University campus. This is the interior of Duke's iconic chapel.


Feb. 4, 2017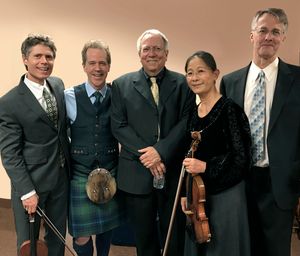 Couldn't have had a nicer time working with the Ciompi Quartet. Eric, Hsao-mei, Jonathan, and Fred are all superb players and showed me the most genuine warmth and respect. We nailed a polished and compelling performance of David Garner's challenging composition Skye & Glass (world premier) in the stunning Baldwin Auditorium. Hearty thanks to Duke Performances for presenting the event.

Jan. 18, 2017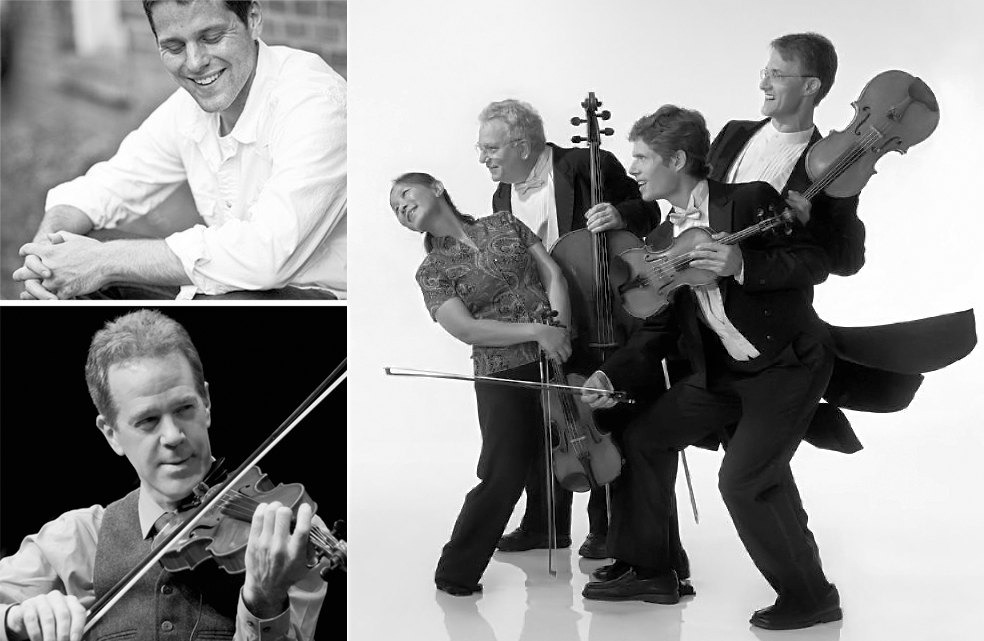 I am honored to be performing the world premiere of a new composition by David Kirkland Garner on Feb. 4. Written especially for me and the acclaimed Ciompi String Quartet, the work bravely blends traditional Scottish music with classical avant-garde. The event will be presented by Duke Performances at the fabulous Baldwin Auditorium, Durham, NC.  I, along with the composer and the members of the quartet, will present a free lecture/symposium on Feb. 2 discussing the inspiration behind the creation of the piece and how classical string playing differs from folk fiddling.
See details about both events.


Dec. 31, 2016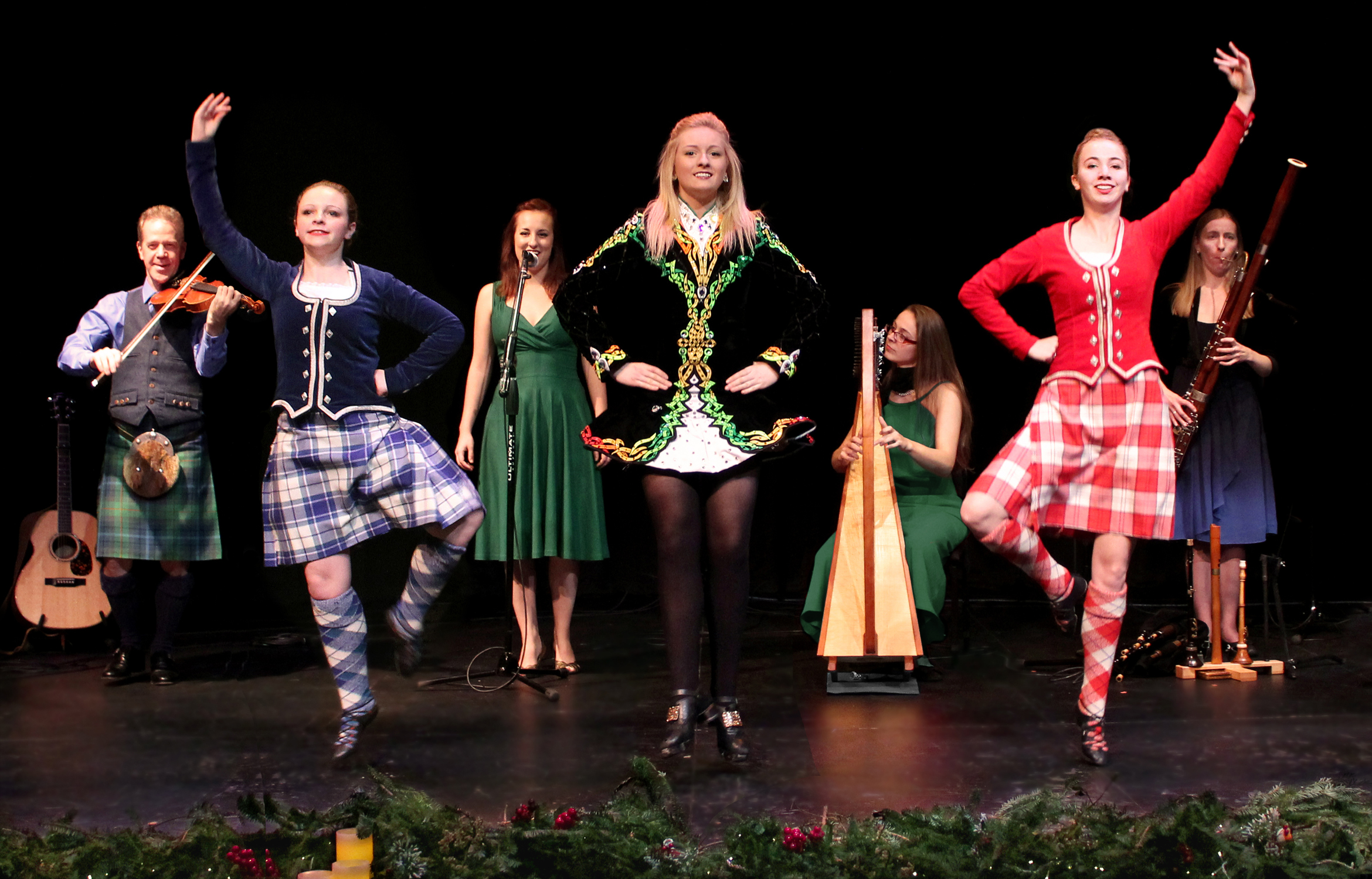 Every one of our 10-member troupe outdid themselves with an amazing performance on our final night of the tour in Tryon, NC. Song after song gave me goosebumps. I am so proud of everyone for working so hard to create such a work of Christmas magic. See full gallery of photos.


Nov 14, 2016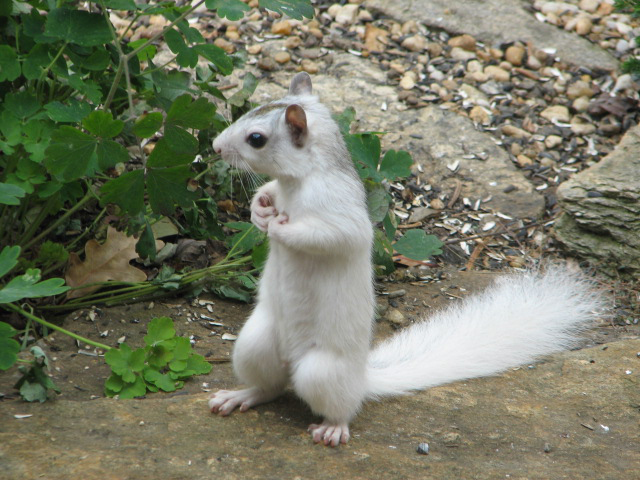 Back in North Carolina busily writing new symphony scores, preparing for my annual Celtic Christmas tour, and sharing my tour adventures in a series of intimate concerts around the region such as the upcoming performance in Brevard, home of the rare and adorable white squirrels.


Aug 19, 2016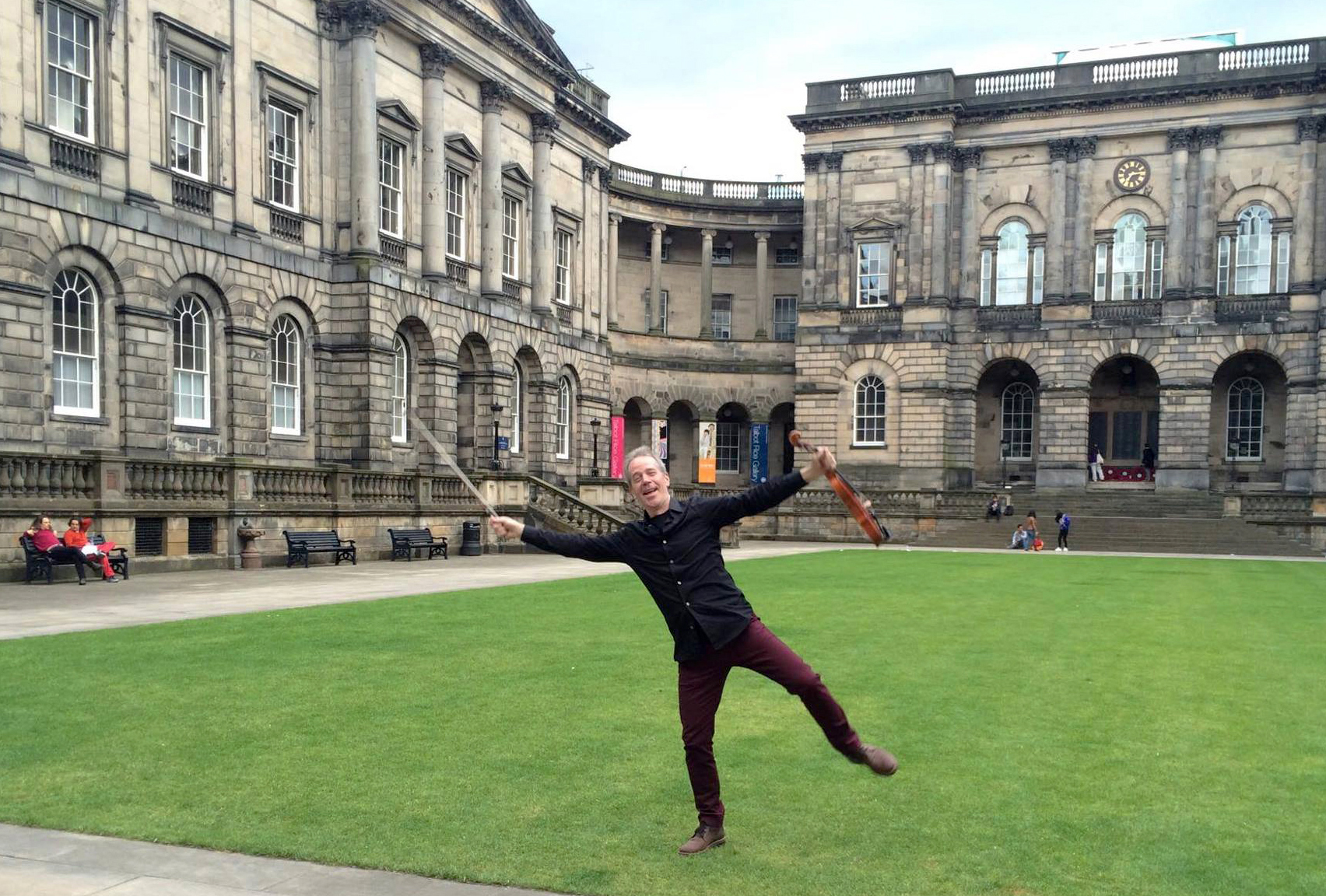 Edinburgh Fringe Festival is off to a bustling start with a nice little first performance at Venue 123 and another today on The Royal Mile Lower Stage. The city is absolutely humming with energy.


June 7, 2016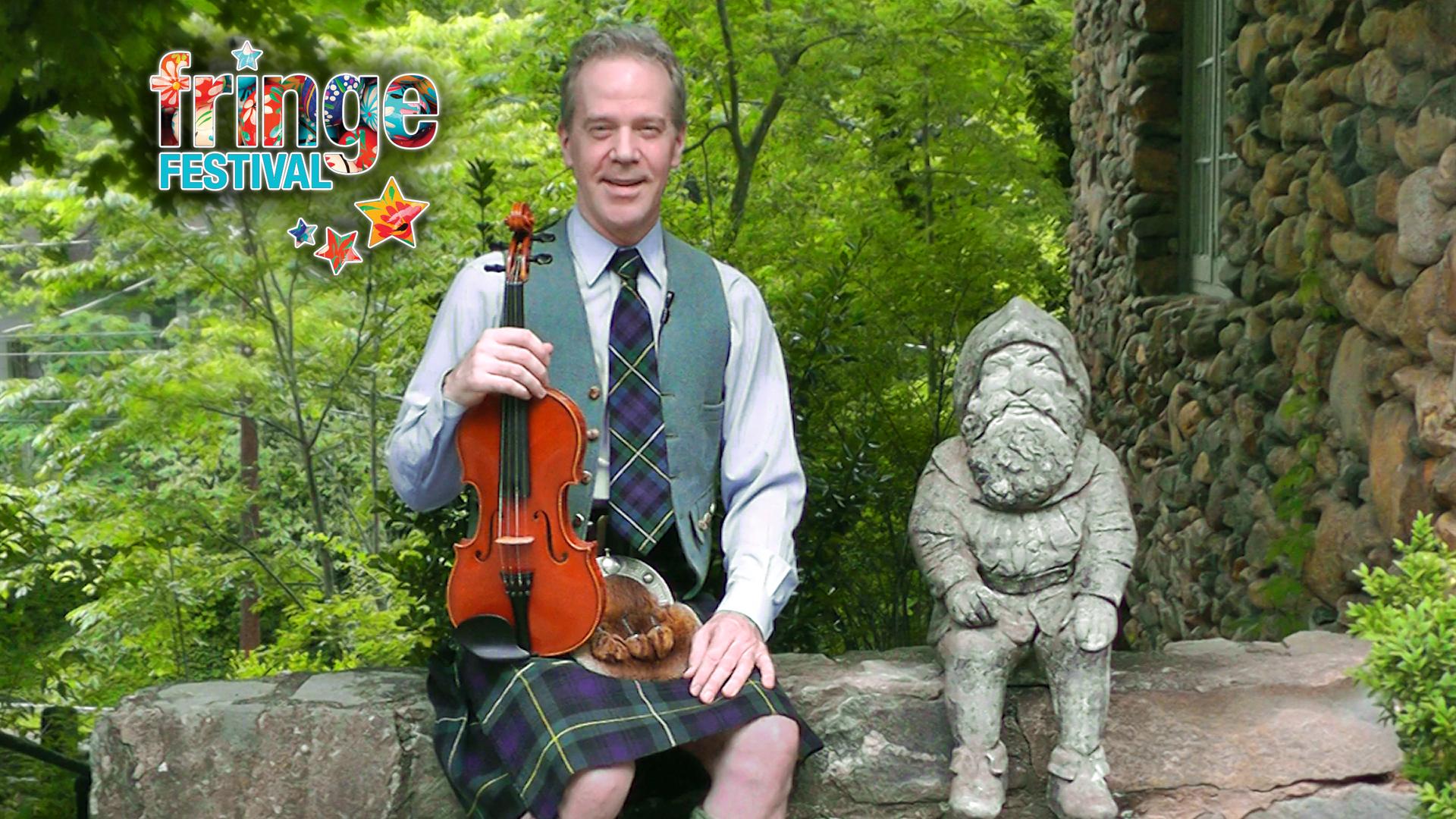 Watch this 60-second Promo Video to find out about the world's largest music & arts festival, The Edinburgh Fringe.


May 26, 2016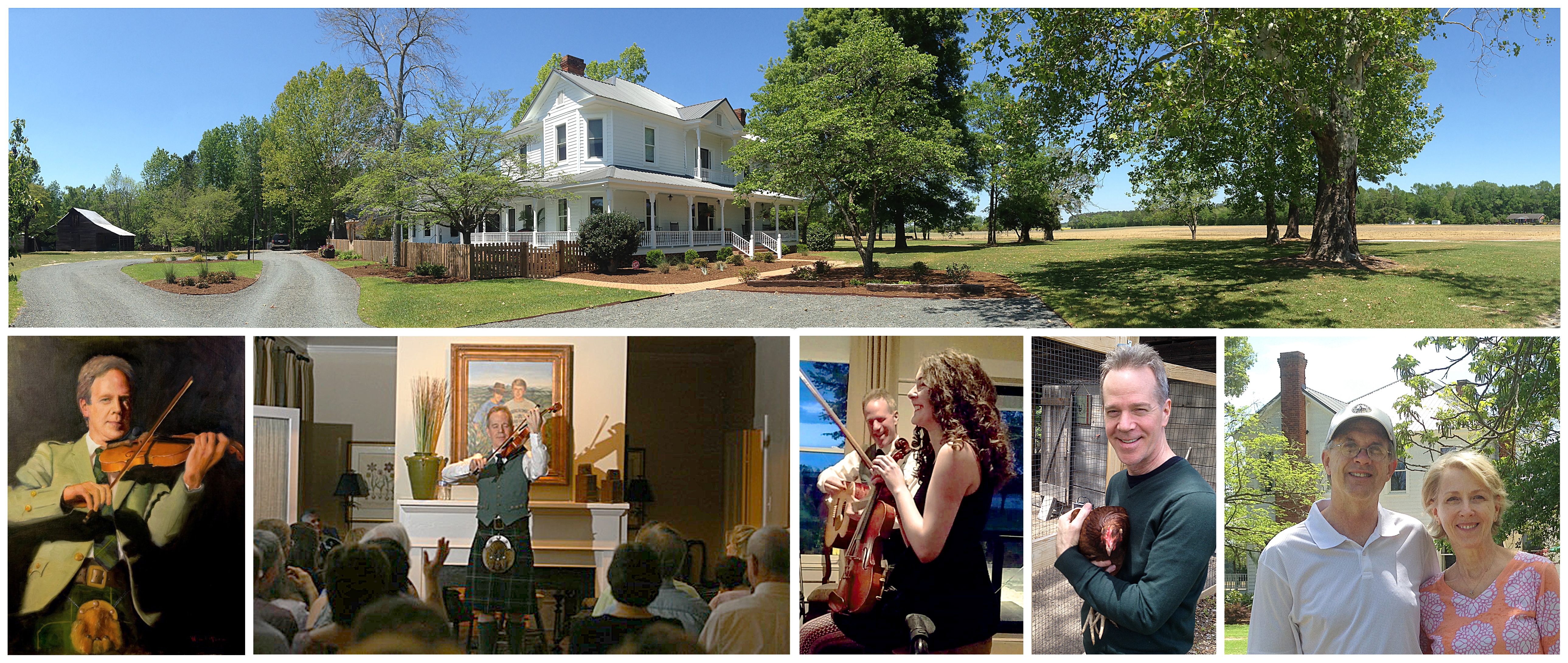 Scotland County, North Carolina. (it's true!)
The story starts with an oil portrait painted of me by a woman I didn't even know at the time. Allison McLean emailed a photo of the painting which she had rendered from a snapshot her husband Steve captured during a live performance in Laurinburg, NC some time ago. Duly impressed and flattered as I was, naturally we stayed in touch.
Recently Steve & Allison finished their massive, 2-year renovation of a magnificent, traditional farmhouse. It was decided that a living room concert would be a great way to share the fruits of their labor with the community. Lucky me!
Following a patio potluck on a perfect Spring evening, I was joined by my buddy Bill Caudill on bagpipes and my talented student Rebecca Simmons on fiddle for what turned out to be a magical evening of Scottish music, complete with a late night tune session around the fire pit. Country life sure suits me...I especially loved the friendly chickens! Thanks to the McLeans and all the Laurinburg attendees who helped make the event a memorable return to Scotland County!


May 1, 2016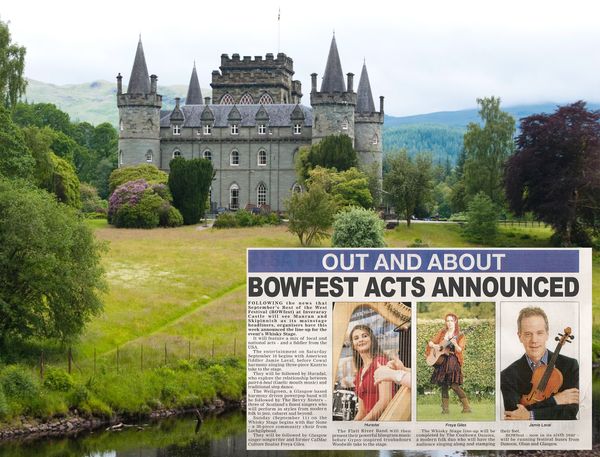 Music festival in a castle! How about visiting Inverary, Scotland on Sept. 10 where I'll be performing on the Whisky Stage during BOWFest 2016. www.bowfest.co.uk


April 20, 2016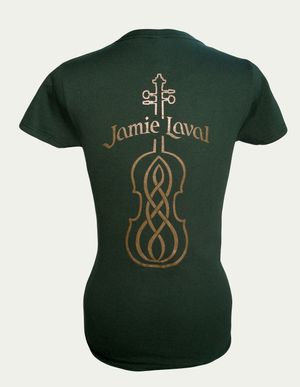 I'm delighted by how many people have been wearing my new t-shirt. People say the Celtic knot reminds them of a candle flame. The outline of the design is the actual outline of my Widenhouse violin. Thanks to Farley Snow for conceiving the original design and managing the production.


April 11, 2016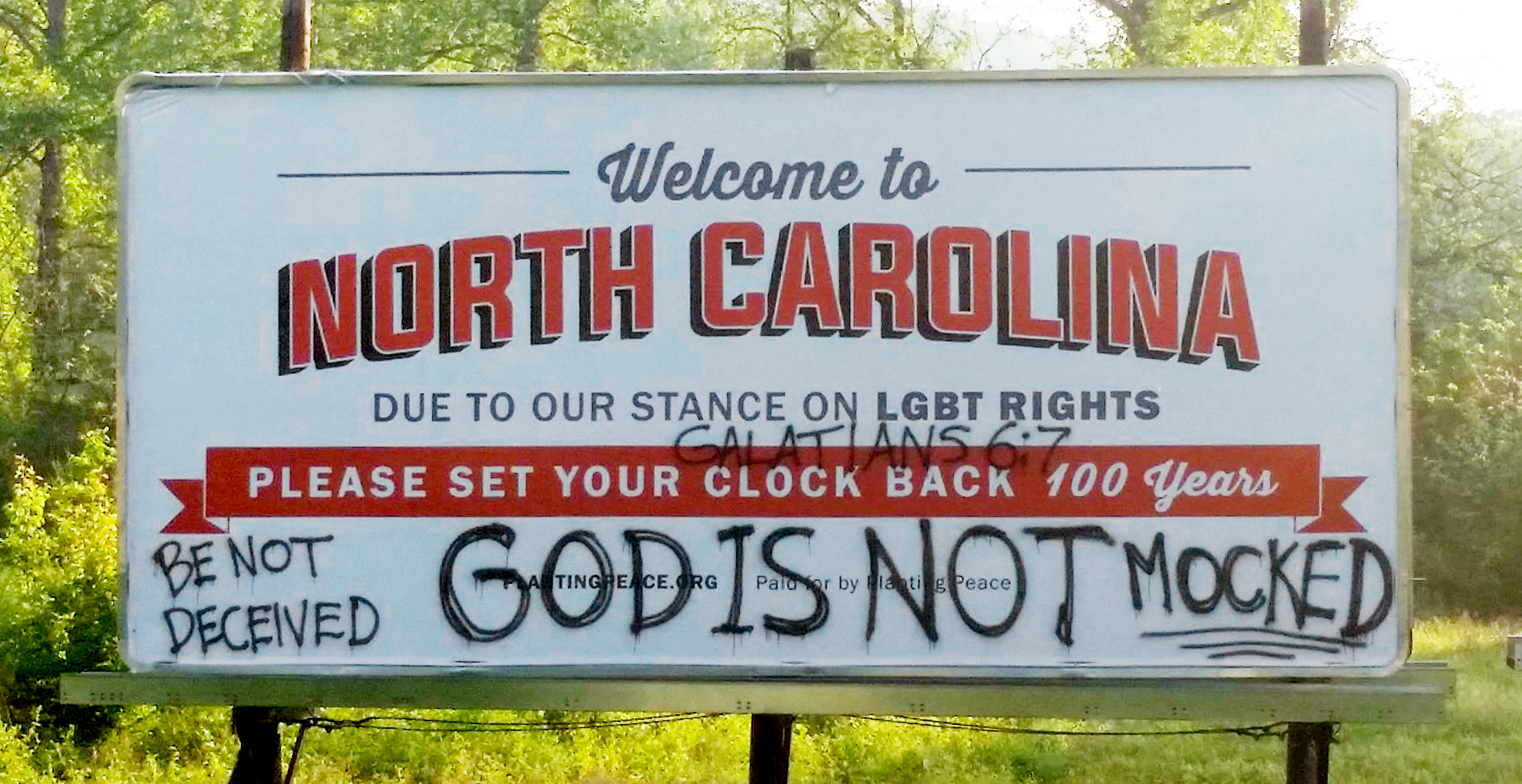 History is in the making! It is fascinating to see multiple layers of our kaleidoscopic society mobilized by Pat McCory's wretched NC HB2 bill.
 
Apr 9, 2016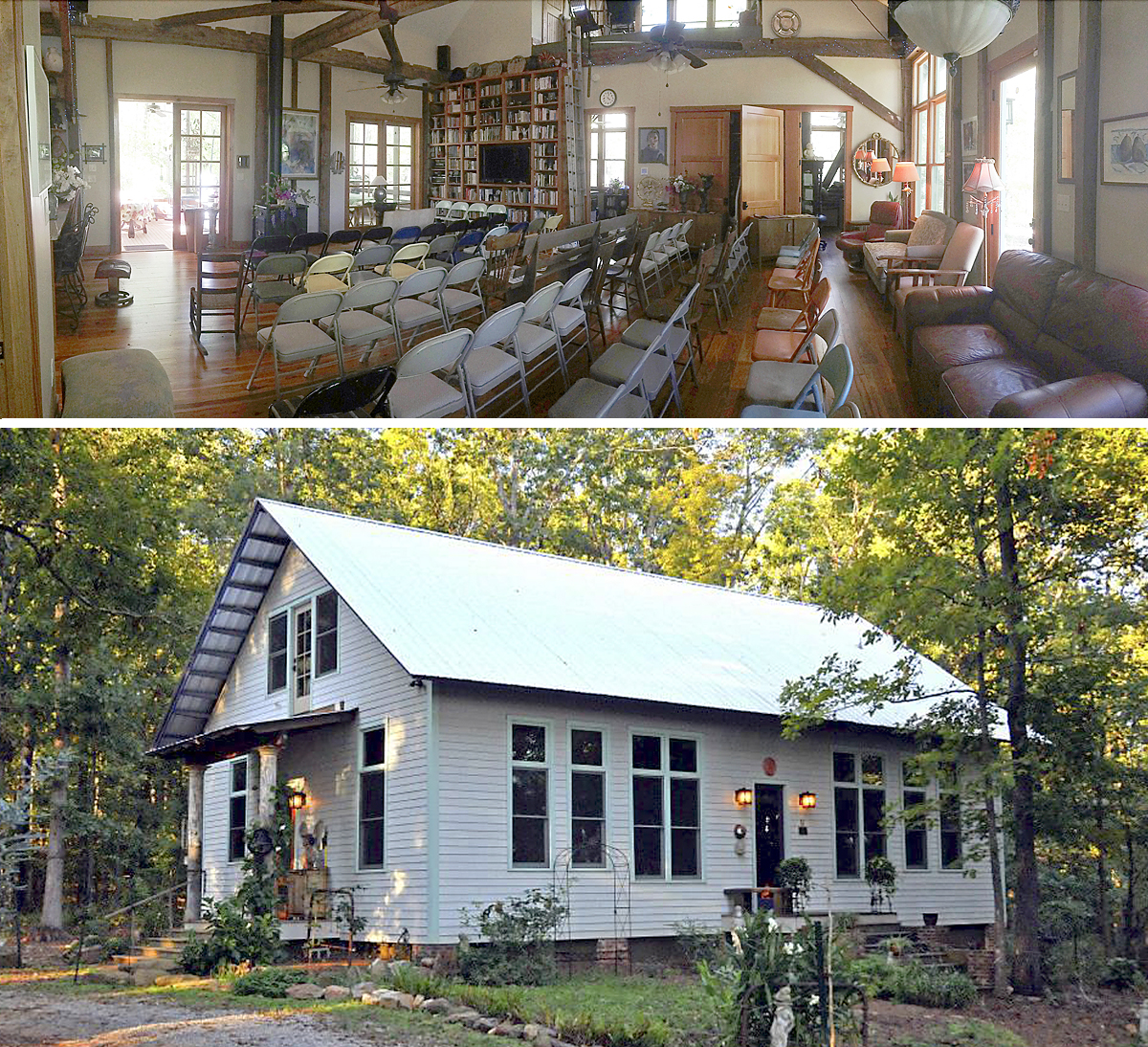 Magical house concert in Athens, GA. Ellen's beautiful 150-year old converted church set the stage for a gathering of some of the most appreciative and music saavy listeners I've met anywhere. A super fun tune session following the concert was a perfect chance to enjoy hearing many of the local players. Thanks, Athens, for showing me such a great welcome.

Apr. 3, 2016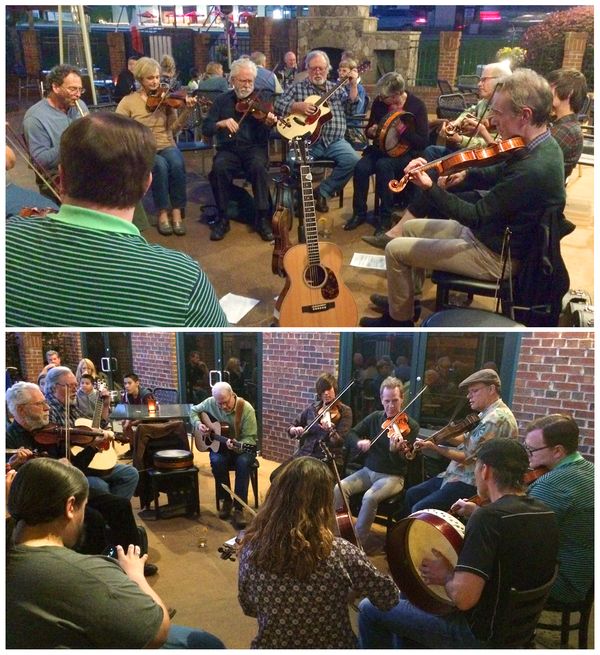 "Dear Jamie: I just wanted to tell you what an unexpected surprise and delight is was to see you join in our local Celtic tune session last evening at the pub! I have attended several of your concerts in the Charlotte area. It was so great to see you mixing it up with some of our local talent!"
"Dear MH: It is fun and fulfilling to join in with local sessions, and I also feel it is important to help carry on the Celtic tradition by playing music with people from all walks of life. The genre has evolved for centuries through a process of community participation and collective invention. The 'seisun' format of playing simple tunes in unison in a group is a perfect forum for community-building."

Mar. 26, 2016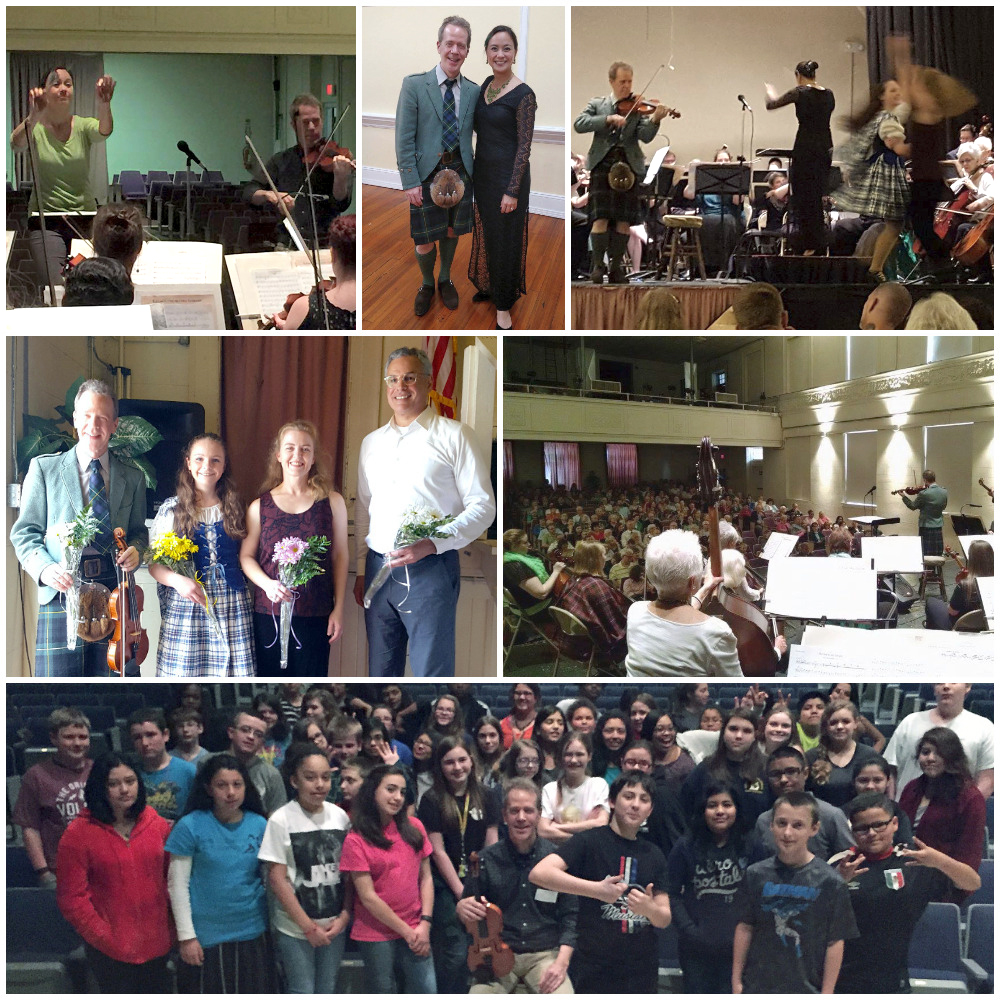 It was community synergy at its best.
Conductor Tara Villa Keith invited me to be the guest soloist with the Lee County Community Orchestra in what turned out to be a brilliant weekend of music, education, and newly-made friends.
The invitation prompted me to compose two new scores for full orchestra that rounded out a program which also featured some of my previous compositions. I was delighted with how well the orchestra rendered the pieces. Although LCCO is a purely volunteer group, they played at a level similar to some professional orchestras with which I have worked. Undoubtedly this was in large part thanks to the superior leadership skills of conductor Tara Keith along with the unmistakable zeal and commitment shown by the individual players.
To kick things off I paid a visit to the local high school/middle school to talk with the music and theater students. Etched into my mind is the vision of the kids' gleeful and fascinated faces as they watched me play. They were beautifully-mannered and clearly showed they were on board with my message of "Figure out your passion, then dive into it with all your heart." The visit gave me faith in our up-and-coming generation. One middle school girl who plays viola emailed me later saying how meaningful the presentation was and asked for some fiddle music written in alto clef. How could I refuse such a request?! Naturally I stayed up late that night creating it for her.
Even the orchestra players themselves demonstrated their earnestness for learning about Celtic music. A healthy-sized group of string players stayed after rehearsals to work with me on the finer points of Celtic style, and I had several excellent musical discussions with wind, brass, and percussion players about the nuances of the genre.
The weekend culminated with two lovely performances in front of large audiences. The players got into the spirit by adorning their concert attire with tartan scarves, shamrock jewelry, and green neckties. I was delighted to see so many families present. I autographed more CDs, programs, violin cases, and t-shirts for kids than any concert in memory. Guitarist Jeff Engel provided a rich harmonic underpinning to the arrangements. We were all charmed by cameo appearances by adorable young Highland dancer Annaliese Poulin and by her teacher Amy Mooney, who kicked it up a notch with her Cape Breton clogging. Ken and several orchestra members built a large, custom platform in front of the stage for the dancers. Karen Huey and Reinette Stephenson worked tirelessly behind the scenes to bring all the moving parts together in a grand success.
Thank you Sanford for showing me such a superb welcome. I'll feel the glow for a long time to come.
Mar. 15, 2016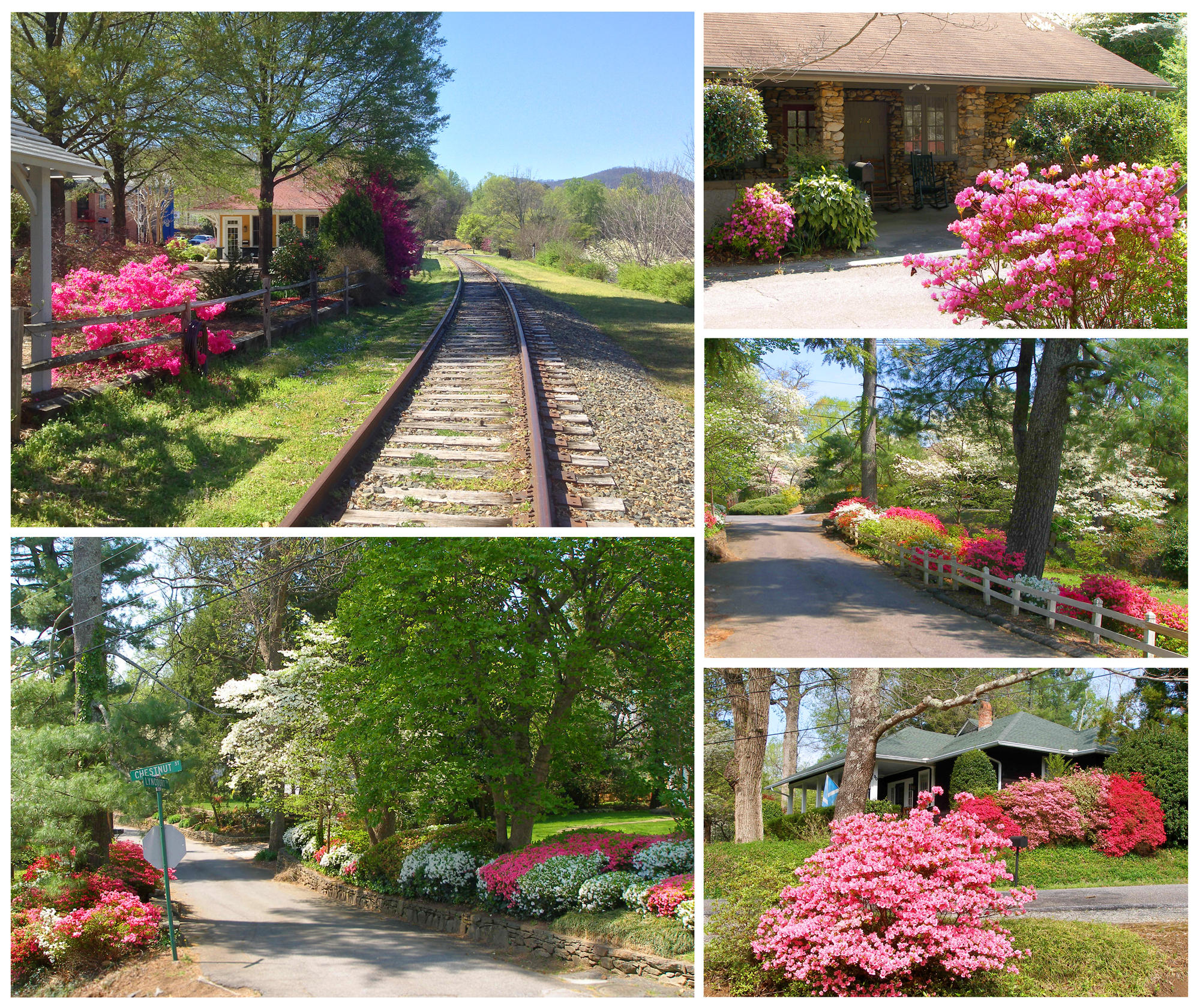 My little lane in Tryon, NC comes alive this time of year! The RR track is the famous Saluda Grade, steepest standard width rail line in the U.S., decomissioned in 2001. I cross it walking from my front door to the bakery one block from home. 
Mar. 8, 2016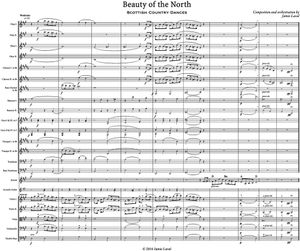 Just finished composing several new symphony scores which will premiere this weekend with the Lee County Community Orchestra, Triangle, NC.

Jan. 28, 2016

Alas! 6 inches of snow shut down the southeast last weekend (stop laughing, you folks up in Manitoba!) and forced the cancellation of two performances. All the more reason I am looking forward to this coming weekend's 4 events honoring Robert Burns. • Friday and Saturday Burns Supper & Ceilidh (Newnan, GA) • Sunday my Solo Unplugged concert with several excellent young Celtic players opening up for me (Sandy Springs, GA) • Monday Scottish Ceilidh dance (Sandy Springs, GA). Details [HERE]

Jan. 20, 2016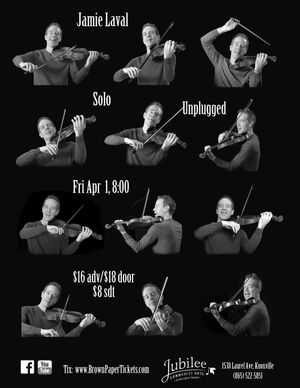 Starting off the New Year by getting back to basics: solo fiddle, no accompniment, just the beauty of Highland tunes and the whimsy of imagination. Upcoming performances [HERE].


Jan. 1, 2016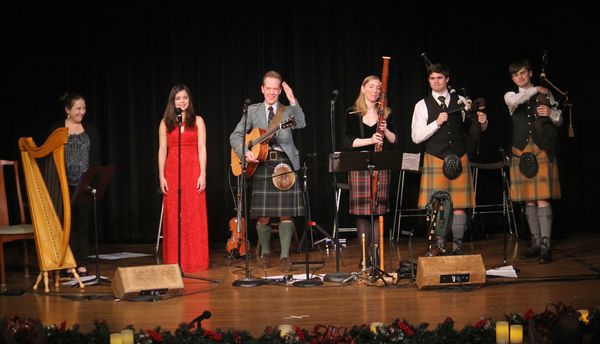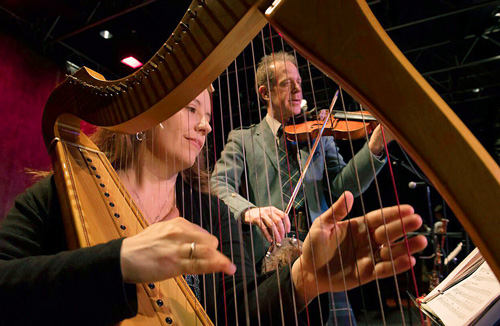 The final show of the Christmas Solstice 2015 tour took place in the Tryon Fine Arts Center just one block from my home. By now the company had become tightly knit and finely hewn and were able to capture the magic and atmosphere of the midwinter solstice and the changing season. It was a great feeling to play such a successful performance to my local friends and neighbors.

Best wishes and all my love to the wonderful troupe of 12 musicians and dancers. During the run of six performances, each of us—I as much as anyone!—made a big leap forward in personal growth and musical prowess. Hugs and thanks to Rosalind, Maddie, David, Michelle, Emily, Michael, Jenny, Ana Carolina, Lindsay, Mary, Kelly, and Amy for your wonderful spirit and skill. Special warm thanks to Farley Snow for your production advice and countless volunteer hours.


Sept. 22, 2015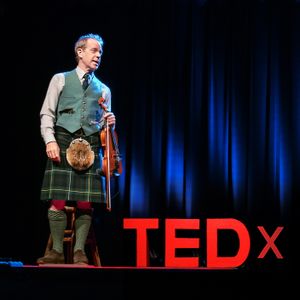 TEDx Tryon last week was amazing. I had been very intent on improving my public speaking skills while at the same time getting out the message of the importance of arts in our communities. After practicing 4-hours per day for two months and doing much soul-searching, I feel the goal was successfully acheived. Enormous thanks to the TEDx team including the curators, technical staff, and army of lovely volunteers.

July 13, 2015



Midnight sun was all that illuminated the elegant dining room of Hannesarholt as Ragga, owner and restorer of this interesting historic site, served a delectable post-concert meal of smoked lamb, traditional Icelandic pastry, and red wine. Earlier in the evening attendees had supped and sipped here during the intermission. It was my last night in Reykjavík and I listened enthralled as Ragga recounted the history of Iceland's comparitively recent development from a huddled, thwarted, underdeveloped colony into a modern, independent nation.

Ragga's passion to preserve the home of Iceland's first prime minister and make it a center for arts events, music, and history struck a familiar note with my own conviction for following a meaningful artistic vision. She has spared no expense in bringing the house back to its pristine, original condition so that the general public might not forget the dramatic leap Iceland made in the early 1900s. If you are ever in Reikjavík I heartily recommend a visit to Hannarsarholt to attend a concert or to enjoy a superbly prepared meal.

Earlier in the week found me performing at a music festival in a unique little fishing village called Siglufjörður, some 5 hours up the northern coastline. An old fishing boat which had been retired within the walls of a large museum served as the concert stage. I was joined by one of Iceland's best guitarists, Asgeir Asgeirsson, who did a great job assimilating Celtic fiddle style for the first time. Pairing an American who plays Scottish music with an Icelander who plays Balkan music aptly illustrated the international flavor of the festival which also featured classical, traditional Norwegian, non-traditional Finnish, and the ancient vocal a cappella tradition known as Rímur which reminded me very much of Appalachian shape note singing.

The final day of the festival had seen the clearest skies and warmest weather (78ºF) of the year, brilliantly displaying the magnificent mountain slopes which rose steeply from the edge of the fjord. It seemed full daylight as the final midnight dance got underway. I taught (called) numerous popular Scottish ceilidh dances to a room packed with energetic school kids alongside other festival attendees and townsfolk, providing dance music with naught but my lone fiddle—thus fulfilling a long standing desire to play for dancers in the old tradition without a backup band!

Thanks to Gunnsteinn Ólafsson for inviting me to Iceland; Monika, Hildur, and Maria at the Folk Music Center of Siglufjörður; Asgeir for the fine musicianship; Ragnheidur and Marinella Arnor for your vision at Hannesarholt.
 
May 27, 2015
Thank you Doug Plummer & Robin Shapiro for hosting the charming house concert in Seattle last night. Several attendees told me they have been fans for years, but I had never met them. Thanks to the intimate living room setting for this concert I was able to get to know them personally for the first time. Doug is a fantastic photographer and terrific cook. Now off to Portland for Abbie Weisenbloom's concert tonight with concert with guitarist Dan Compton.

Feb. 22, 2015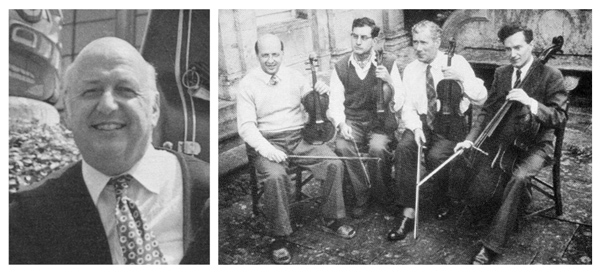 My musical mentor, Sydney Humphreys, passed away last week at age 89. Mr. Humphreys was unlike any other teacher I have had in that he taught body movement and violin mechanics as an integral part of music making. His extraordinary accomplishments as a performer daunted me when I first began lessons with him at the Victoria Conservatory of Music at age 17, but it didn't take long for him to reveal his gentle kindness and matter-of-fact working method which put me at ease. Since then, whenever I take up the violin, whether to perform, practice scales, or pass along my knowledge to the next generation of budding fiddlers, I call upon the indelible imprint of his teachings which is still clear in my mind and my fingers. Read more about Sydney Humphreys' musical legacy in this lovely [obituary].

Jan 1, 2015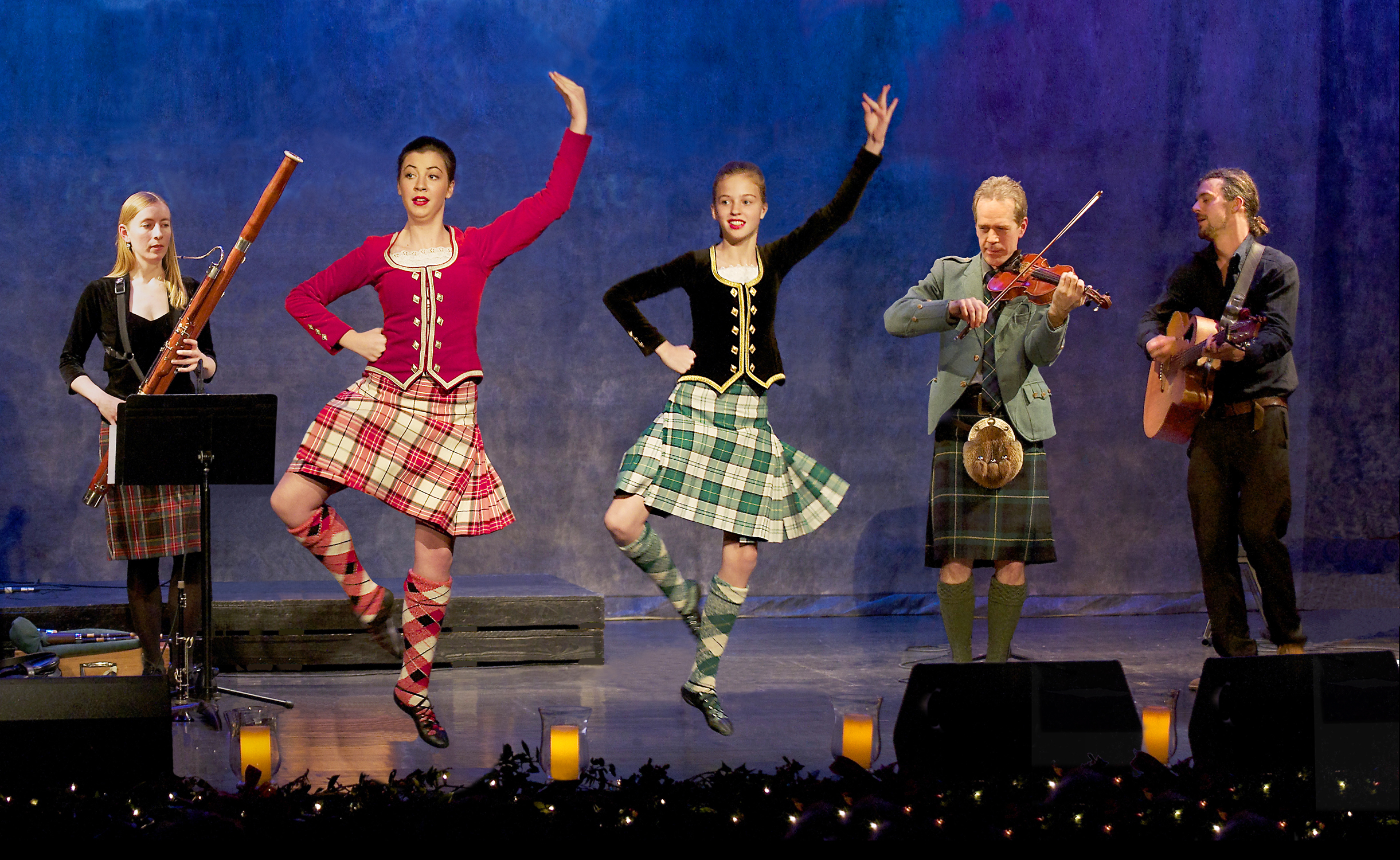 Until recently I was always pretty much "bah humbug" about the Christmas holidays. The rampant consumerism of our present-day culture has always alienated me. Could we not champion a more introspective holiday season by revelling in good conversation, food, and music amidst the company of loved ones in a cozy domain as the stormy Winter rages outside?

Happily, the sense of community and holiday cheer which has begun to coalesce around my Celtic Christmas shows has lit a glowing advent candle within me. For the first time the Christmas spirit is begining to make itself known.

John Maschinot's beautifully conceived Atlanta Celtic Christmas kicked off the festivities. I was just a side guy in this annual production at the Rialto Theatre which brought together a multitude of the best and brightest Irish and Scottish performers in the greater Atlanta area. Joe Craven and Jessie Edgerton stitched together a theme of two street musicians warming themselves by the fire while interjecting amusing social commentary and observations about Celtic music. John Doyle and I sailed through my most recent composition The Camellia. Playing with John is like a ride on a rocket ship! John always thrills me with his fountain of inventiveness which seems to spring up out of nowhere during the heat of performance. [video]
My own Scottish Solstice Holiday Celebration show started to take on a life of its own this year. The continuity of sold out shows in Fayetteville, NC; Duluth, GA; Asheville, NC; and Tryon NC helped glue the band of 9 merry tinkers together. Each dancer and musician seemed to discover how best to present themselves within the context of the whole. It was lovely to behold. During the 26 hours folowing Christmas Day we clocked 15 hours of stage time along with a four-hour drive on just 4 hours of sleep; yet at midnight after the audience had gone home and the lights were down, everyone was still full of laughter, hugs, warm comradery.
Rosalind Buda scored a home run with her amazing bombarde playing, not to mention her sublime poetry reading which I find incredibly atmospheric. Kelly Stewart Brozozwski enchanted us with her fairly-like Celtic harp. Lindsay Recknagel came out of retirement (age 21) to dance a razzmatazz solo of the sailors hornpipe. Huge thanks to soprano Katie Baughman, highland piper Bill Caudill, guitarist Gil Draper, and Amy & Maddie of the Annandale School of Highland Dance, all of whom delivered wonderful performances.
A special call out of thanks to PA sound engineers Shalom, Alex, and Jimm. Warm and kind thanks to Mary Recknagel for the beautiful evergreen decorations that adorned the stage at every show. And much gratitude to Derek Prescott of Lochgoilhead, Scotland who provided the stunning photos for the backdrop.

Now it's time to start planning for an even more wonderful show next year!

Sept. 16, 2014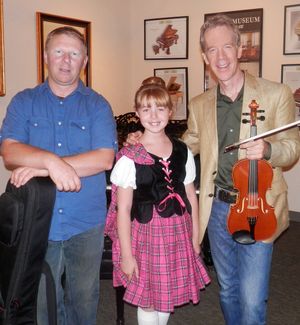 Finished three lovely concerts with Irish bouzouki & guitar player Vincent Fogerty. Observing Vincent's unqique backup style taught me a lot about harmonic and rhythmic possibilities which I could utilize when it's my turn to take guitar in hand. Kudos to Rodney and Loraine, the new owners of The Strand Theatre in Waynesville. It was a sellout show and they are running a first-rate venue with highest professionalism. In Johns Creek were graced by a cameo performance of a Fling and a Flora by Aeri Baker, the charming young dancer who studies at Atlanta's Glencoe School of Highland Dance.


Sept. 6, 2014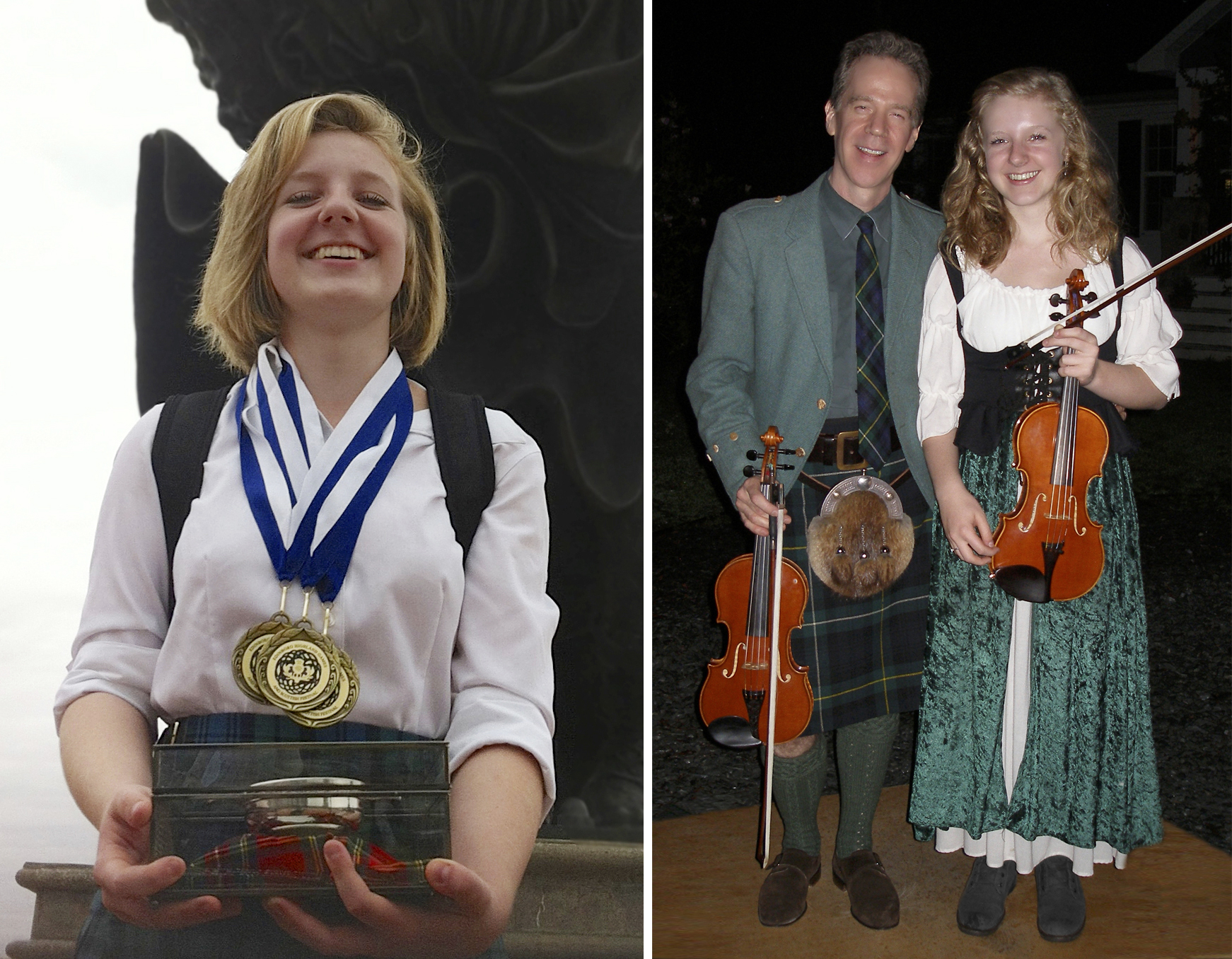 Congratulations Annika Bowers, the new U.S. National Junior Scottish Fiddle Champion. Best slow air, best reel, best set, overall winner in a large field of competitors. The event took place Sept. 6, 2014 in Edinboro, PA. Annika lives in Charlotte, NC and has studied fiddle with me for 5 years.
April 23, 2014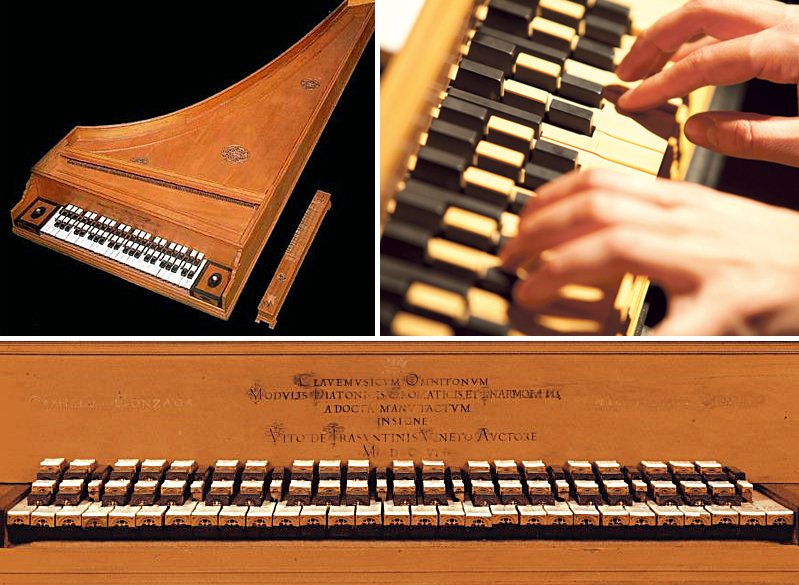 My students are often amazed when I demonstrate that there is not just ONE place to put their finger to make a correctly-tuned note, there are FOUR. I call them: sub, tempered, super, and leading tone, chosen depending on the musical situation or key. All professional wind players and most professional string players know this. When my students ask about a piano having only one "G", one "G#" and so on, I point out that in days of old harpsichord keyboards had additional notes to help them try to play chords better in tune. Nowadays, we have been socialized (supposedly) to accept the sound of modern-tuned pianos and fretted instruments, in which the 3rds of the chords are 1/7th of a semitone out of tune and the 5ths of the chords are 1/49th of a semitone out of tune.


April 16, 2014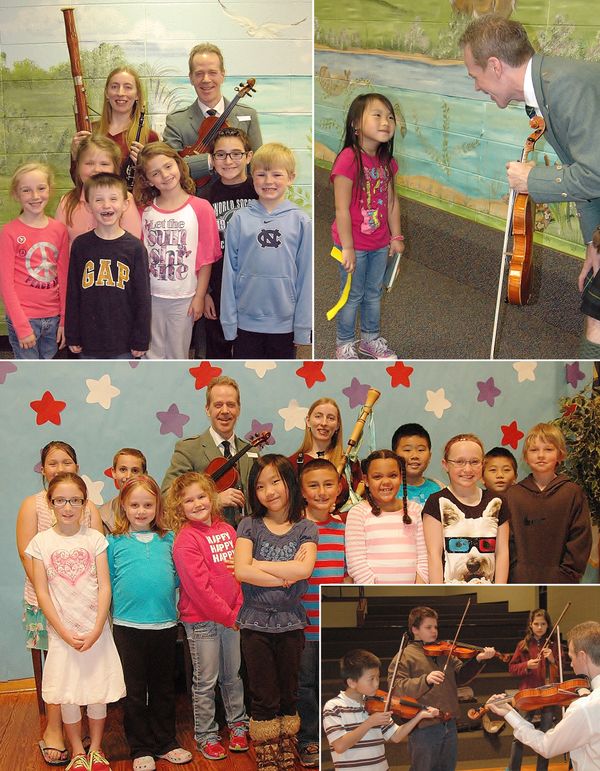 Gave two presentations and taught private lessons at elementary schools in Burke County, NC. A vital axiom of mine is that my students don't limit themselves to just the robotic skills of going through the motions of playing the right notes, but that they learn a deeper sense of what the music is about, how it is constructed, and how we can communicate emotions and ideas through music.